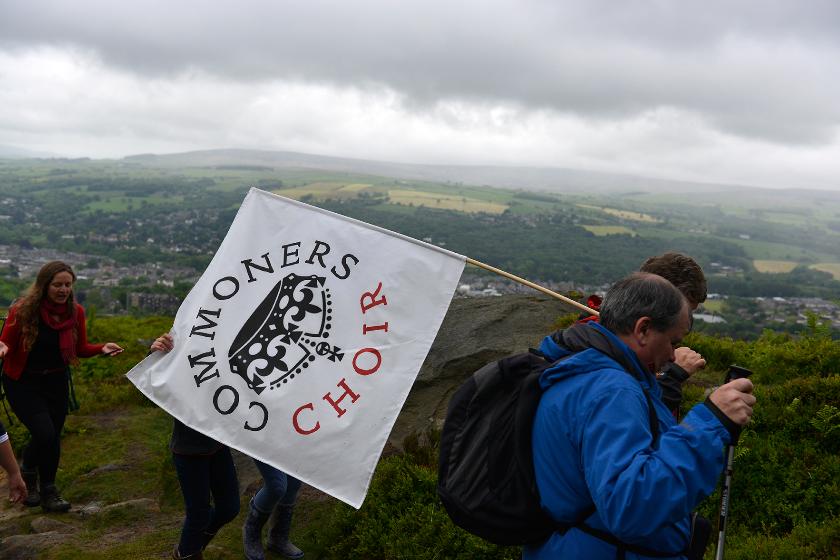 one year later…
Well it's been a year since the choir gathered, since its ambitious manifesto and since we had just one proper song. That song was the one-minute long 'Get Off Your Arse', a sort of melodic call-to-arms. Since then the choir has grown, gone through the crawling and toddling stages and now stands up and shouts, with umpteen songs under its belt and loads of projects and ideas in the diary (past and present). From that tentative minute-long song has grown a huge and unruly full-throated yell.
Yes, this is a blog about a choir. I'm not unaware of the recent popularity of choirs on this island, especially after all that Gareth Malone stuff on the telly, and I can see how championing singing together can sound like an advert for well-being, pleasantness, good clean living and the Big Society. Here's Niall Crawley writing in The Independent:
"Choral singing may have curative qualities but if we recast it as just another healthy lifestyle activity, like going to the gym or visiting our GP, then all that's magical, inspiring and elevating about the choral experience might just melt into air."
So I'll try to keep this to the magical, inspiring stuff. What can I say? Monday nights are choir nights and choir nights are a joy. They really are. There's chatting and tea-drinking and catching up and laughing… and some singing, too. Before the Commoners I'd never been in a choir before, barely seen a real choir rehearsing, so I have nothing to compare it to except my time in a band. And what I can assume is that being in Commoners Choir is somewhere between being in a band and being in a choir, which was, as it happens, exactly the aim. Being in a band is about making music as a gang, purposeful, ambitious and close-knit. Being in a choir is about the empathy and shared experience of making music with lots of people. The idea is that Commoners Choir is neither one nor t'other, but the best bits of both.
A bit more about the band thing. One of the best things about rock 'n' roll is volume, and specifically amplification. I haven't forgotten the sheer excitement to be had from turning up the dial on a Gibson guitar going through a Marshall amp. Honestly. The youthful, exciting stuff. And of matching the guitar to drums and bass, of playing with the tension and dynamics of volume and sound. But I'm learning that that's sort of how it can work in a choir – playing with the possibilities of volume and sound, of matching voices. I've always loved acapella singing, by folk groups like The Watersons, Swan Arcade, Coope, Boyes & Simpson and by fifties and sixties acapella doo-wop groups like the Zircons, Nutmegs and Savoys. It's just bands without instruments, isn't it?
I always loved being in a band. It was that joy of playing music matched to the feeling of working with friends to make something that connected with bigger ideas than rock 'n' roll or pop. For a couple of years after Chumbawamba stopped playing I wondered about starting another band, but couldn't work out what it could be, what it might sound like. Bands are intense, so it was a bit daunting. And I knew I had to steer clear of anything that might sound remotely like Chumbawamba (that would be weird, like being in a covers band). In the meantime I was writing scores of songs for theatre and art and community projects, for friends and for fun. I worked with choirs in a project at Manchester Museum with Dan Bye and Sarah Punshon (and thoroughly loved it) and then created a small scratch choir to sing at the Tate Gallery in London (and loved that too). I found it challenging and enjoyable and strange and wonderful.
And that's when I had the idea of crossing the Mormon Tabernacle Choir (whose music I grew up listening to, but that's another story) with seminal anarchist punk band Crass. Absolute diametric opposites. Sacred, harmonic grandeur paired with frenetic, angry polemic. But the thing about the Tabernacle Choir and Crass is that both are utterly compelling, they share a desire to tell the world something important. Neither makes music just to be listened to, it's about what they have to say, and both found a form that matched their intent. And whilst both Crass and the Tabernacle Choir could be criticised for being one-dimensional, I knew choirs didn't have to be – a choir could encompass the pop of doo wop and the folk of The Watersons, the art-noise of Furious Pig or the repetitive, modern classical stuff like Philip Glass and Steve Reich. There's a whole world right there in the human voice.
I hadn't thought it through very much. That was about as far as it went, the mutant lovechild of Crass and the Mormon Tabernacles, along with the idea for the opening song – knowing that there would be something peculiarly beautiful in hearing twenty or thirty people harmonise the refrain, 'Get off your arse!' It's juvenile – but that's what they said about Dada and rock 'n' roll and punk…
So a year later here we are, twenty or thirty or forty people in a low-ceilinged rehearsal room or waving our flag up on a moortop or uninvited in a shopping arcade singing our hearts out and feeling like we're part of something much bigger than ourselves. Not just because we're a choir but because we're, well, a weird choir. A maladjusted, not-quite-knowing-what-we're-doing choir. We just released our second video. The Boris Johnson one. I wasn't in it, I had a broken arm. But that's sort of how the choir works, everyone is subsumed into the bigger idea.
We have all sorts of plans as to where we go next, and I'm as curious as all the other Commoners what that means. We're playing in Bradford at 'Threadfest' and, in the light of the decision to move the Media Museum's photography collection down to London's V&A (where it will be "part of the national collection") we'll be singing about the Northern Poorhouse, erm, I mean Powerhouse. We're heading down to Ely in Cambridgeshire to commemorate the Ely and Littleport Riots of 1816, again with a special song. I'll be taking up residence at Leeds Central Library in late summer to prepare a Commoners event based around the history of literacy and print, access to words and the democratising role of the libraries. Oh and we're going to record as many of our songs as possible and somehow let them loose on the world.
And that's the Commoners Choir, as it stands, one year on. I've no idea where it's going. I can't start to thank the people in the choir who've put their shoulders to the wheel and made things happen – I'd have to list everyone. Getting this far really has been a team effort. And you, if you're anywhere nearby, you're welcome to come along if you want to sing about the world… and have fun doing it. It doesn't have to just be a healthy lifestyle activity, y'know.
Boff, March 2016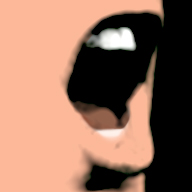 FIRST GATHERING, march 2015
Singing is good for you. Singing with other people is even better for you. If I was wearing a journalist's hat (a trilby with a ticket stub in the band, obviously) I'd throw some quotes into this article ('A study at Cardiff University in 2012 found that lung cancer patients who sang in a choir had a greater expiratory capacity than those who didn't. Singing has also been shown to boost our immune system, reduce stress levels and, according to a report published in the Journal of Music Therapy in 2004, help patients cope with chronic pain. A joint study by Harvard and Yale Universities in 2008 went one step further, claiming that choral singing in a Connecticut town had increased residents' life expectancy' etc etc). But I'm not a journalist (too opinionated, I think). I tend to snatch at disparate, personal, poetic, cultural, anecdotal and philosophical ideas as they swirl around, collecting and storing all the interconnecting stuff until it forms itself into a proper, cohesive idea.
One of those ideas is that singing with other people is not only good for you but is one of the ongoing wonders of our (present) age: that it represents revolutionary potential both individually and collectively. Potential is a big word here. I don't think 200 nine year-olds parrot-singing 'All Things Bright & Beautiful' at school assembly along to a pre-recorded CD of midi keyboard music has much in the way of revolutionary spirit. But the potential in gathering kids and getting them to create something communal and loud that doesn't need technology is enormous.
Mentioning kids is important – because singing with other people is one way we can allow ourselves to play again. Playing is something we're encouraged to 'grow out of', and our social lives as we get older revolve more and more around entertainment that's spoon-fed to us, that's one-way. Part of me dies every time my football team score a goal and, instead of allowing the crowd to sing their support, the over-loud tannoy blares out the regulation celebration music that we have to la-la-la along to. But in an age where it's difficult to escape the clutch of 24/7 digital communication, people are trying to find ways to rediscover how to play. Heading for the countryside; learning to play an instrument; gardening; riding bicycles; singing.
One of the things I enjoyed most playing in Chumbawamba was singing, acapella, in rehearsal rooms or in backstage warm-ups. Being able to feel the knitting, resonating voices (a physical buzz, timbres and breaths rubbing against each other) was always a joy. I love loud guitars and drums and rock 'n' roll, too. But singing in harmony fitted in perfectly with my love of fell running, or debating, or riding a bicycle, or chatting in the pub, or being in the middle of a demonstration… physical, natural, things that connect us.
Working at Manchester Museum last year with Dan, Sarah and Josh and a hundred-and-odd singers taught me something else that fed into this sense of the natural and physical – through the ethos of organisers People United (in short, 'promoting kindness through art') I realised that choral singing was something to be messed with, spun around, played with. That it could be taken out of context and thrown into the world of ideas. That choirs could be revolutionary. I'm not talking about manning the barricades (although…) but about challenging the way we think about things, about the way we think about the world.
Following the Manchester stuff (and what inspiring stuff it was to be involved in) I ended up at Tate Britain in January this year with a group of quickly-assembled singers who stood in front of one of Turner's huge Yorkshire skies (sketched from the top of the hill that overlooks my town) and sang about art, space, creation and genius to surprised gallery-goers. There was a pattern emerging, and the pattern was to take that idea that communal singing is good for you and couple it with other stuff that's good for you: it's good to shout about the world around you, both as self-expression and as part of the collective shout for a better world. And blimey we need a better world – both the Manchester and London projects meant I walked daily past the winter's streetfuls of homeless, blanketed people that successive governments flick derisively into the margins. "Change, mate?" "Yeah, the sooner the better."
So this week, Commoners Choir was born in a big strip-lit room in Leeds city centre and a bunch of people turned up not knowing where this was all going. I brought the kettle and the tea but forgot to get milk. I was nervous. I don't usually get nervous. I needn't have been, because our singing together, according to that report in the Journal of Music Therapy, was boosting our immune system and reducing our stress levels. And it was fun. Physical, communal, energising fun. Like playing, but with a point.
And the point is to take all the joy and bundle it with purpose, sing words that mean something, then walk those words up hills and onto the streets and into places we haven't even thought of yet. To plant our flag with big choruses and whoops. Reclaiming our sense of place and our collective voice whilst singing (in four-part harmony, naturally) 'Get off your aaaaarrrrrrse!'
AS I WRITE THIS (REALLY, RIGHT NOW. I THOUGHT 'AAAAARRRRRRSE' WAS THE PUNCHLINE TO THIS PIECE, BUT NOW…) THERE'S A CLASS OF SCHOOLKIDS BEING WALKED IN A CROCODILE LINE DOWN THE FRONT STREET PAST MY WINDOW, THEIR HI-VIZ JACKETED TEACHERS DOING THEIR BEST TO RETAIN SOME CONTROL. I HEARD THEM COMING A GOOD TWO MINUTES BEFORE THEY APPEARED IN FRONT OF MY HOUSE, AND I CAN STILL HEAR THEM AS THEY DISAPPEAR BACK TO THEIR SCHOOLS, ALL BABBLING, SNIGGERING ENERGY AND YELLS AND EXCLAMATIONS. YOU CAN HEAR THE POWER OF COLLECTIVE HUMAN NOISE IN THAT CROCODILE, AND IT'S A THRILLING, VIBRANT NOISE. AND WHAT I'M TRYING TO SAY WITH ALL THIS STUFF ABOUT SINGING AND CHOIRS IS THAT AS WE GET OLDER WE DON'T NEED TO SWAP THAT THRILL OF HUMAN NOISE FOR THE ORDERED, RESTRAINED HUM OF BEING A GROWN-UP; AND THAT IF WE CAN FILL THAT NOISE WITH SHOUTS AND SNIGGERS AT THE WORLD AROUND US, THEN THE SINGING ISN'T JUST GOOD FOR US, IT'S GOOD FOR EVERYONE.