get off your arse!
a weekend festival of music and ideas – 14/15/16 July
This July, Commoners present Get Off Your Arse!, a weekend festival of music and ideas. It's three days of bands, musicians and comedians who have things to say about the chaotic mess of the world around us. Situated in The Old Woollen, and part of the sprawling and revitalised Sunny Bank Mills in Farsley, Leeds, we present a fine selection of artists along with bookstalls, talks and presentations from campaigning groups across the city.
Sunny Bank Mills – formerly a cloth manufacturing mill and now a hub of energy – has a brewery and bar, a café, a gallery and a venue. This summer festival will be centred around The Old Woollen venue, with concerts ranging from stand-up post-punk to seated comedy, along with a special Sunday afternoon family-friendly show. The weekend brings together a diverse and fascinating selection of acts that Commoners have admired and respected for many years – artists who inspire and agitate as well as entertain.
Every concert – each featuring two acts – is ticketed separately, so you can choose which to attend. In and among the shows will be various other activities and stalls alongside the café and bar, including a radical history walk and a wild swim. Come for the weekend or pick and choose your time – tickets are limited and will sell fast!
Friday 14 july - doors 7pm
Steve Ignorant's Slice of Life and Commoners Choir
tickets - £16.50
The opening night of the weekend – with a band fronted by a legend, a rabble of a choir and some late after-show punky/reggae dancing.
Having cut his punk teeth in Crass, Steve Ignorant's latest project – Slice Of Life – allows the more contemplative side of his song-writing to reveal itself. Musically, the band is built on an acoustic arrangement of piano, guitar and bass. Having shed the punk noise that defined Crass, Slice of Life retain the emotional impact and compassion that has long distinguished Steve's work. The band have won over many new fans and rekindled the interest of many an older punk rocker.
"Slice Of Life craft songs that effortlessly display the collective strengths of the band members; whilst being essentially acoustic, the material is peppered with tension and dark melodies that frame the direct lyric reflecting the maturity of the performers and Ignorant's observations of the world around him." (Louder Than War)
Commoners Choir are a strident, funny, literate and melodic choir based in Yorkshire – more of a gang than a band, the choir sing their own material about inequality, hope and Tory politicians. Recently featured on BBC Radio 4, Commoners' various ideas and projects far outstretch the label 'choir'. Started from a manifesto seven years ago, they have sung across the country and continue to develop and grow – and live they are joyous, uplifting and angry, but always thoroughly entertaining.
"Bloody marvellous stuff. I always want to charge at someone after hearing them!" (Mark Thomas).
saturday 15 JULY - Doors 2PM
Peggy Seeger (In Conversation) and O'Hooley & Tidow
TICKETS - £18.50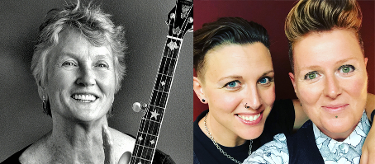 Saturday afternoon with two generations of strident, powerful female voices.
The legendary and charismatic Peggy Seeger – singer, songwriter, feminist icon, Ewan MacColl's partner and muse – is the undisputed queen of folk and political song. Here she will be in conversation talking about her life as both a singer and songwriter and a committed activist who has been involved in a lifetime of protests.
"Peggy Seeger – this sparky woman has done so much, lived so much, crammed so much in. Most of all, she has informed our appreciation of British and North American folk music, like very, very few people have. Then factor in her multiple roles in illuminating the folk, political song and feminist scenes and how her songs have enriched the folk idiom, and you have somebody worth getting amazed about." (Ken Hunt, fRoots)
Much loved Yorkshire folk duo Belinda O'Hooley and Heidi Tidow have been propelled into newfound fame for penning the theme tune for Sally Wainwright's hit BBC1/HBO drama 'Gentleman Jack', earning them global admiration, appearances on TV, Radio 4 Woman's Hour and concerts that sell out months in advance. Belinda and Heidi's boundless songwriting has been described by The Independent as 'defiant, robust, northern, poetical, political folk music for the times we live in.' From an emotionally charged song about an elephant orphanage in Nairobi, to a joyous celebration of the Leeds cycling champion Beryl Burton, they explore, consider and connect subjects and stories in a distinctive, inventive and memorable way; having the originality and skill to invite comparison with the most celebrated harmony duos, from early Simon and Garfunkel to the iconic Kate and Anna McGarrigle. Nominated four times for BBC Radio 2 Folk Awards.
'Brave, beautiful and full of love.' (Martin Simpson)
SATURDAY 15 JULY - Doors 7PM
Mark Thomas and Joe Solo
TICKETS - £16.50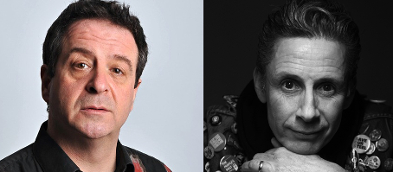 Saturday evening's show, righteous punk-folk and dagger-to-the-heart belly laughs.
Mark Thomas is widely recognised as one of the boldest and the most uncompromising comedians in the last twenty years, who has had no qualms in combining comedy with political activism. As an artist, he regularly uses comedy, theatre and opera to up his ante and to raise political consciousness about among the audiences. His frequent clashes with politicians have helped establish his reputation as a headstrong individual and as a powerful comedian/political activist. And he's side-splittingly funny!
"Mark Thomas is relatable, he makes his audience feel comfortable in a space where he is spouting uncomfortable jokes (well, uncomfortable for Tories). Unlike many political comedians, Thomas doesn't pretend to be politically neutral." (Student Newspaper)
Joe Solo is an award-winning musician, writer, poet, activist, broadcaster and washing machine engineer from Scarborough. His musical odyssey began in 1987 fronting a bash-em-out band at school, and on top of releasing twenty one albums since 2004, Solo has written a series of children's books for Unison on social justice and equality; runs a research project on the Hull Pals Battalions in the First World War; hosts a weekly Monday night radio show; has had one of his poems used in an international campaign to educate on dementia awareness; and co-runs May Day Festival of Solidarity, an annual event bringing together voices from music, poetry and politics to celebrate International Worker's Day.
"There's a line that can be drawn from Woody Guthrie to The Clash, and it is between these two reference points that Joe Solo sits. A protest singer with a punk heart. A big punk heart." (Reservoir Droogs)
Sunday 16 JULY - Doors 2PM
if the kids are united
TICKETS - £5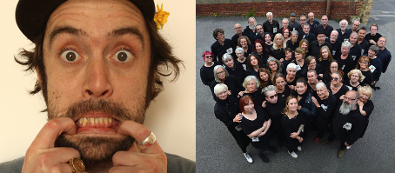 'If The Kids Are United': an afternoon show for families and a younger audience with Beans on Toast and Commoners Choir.
Beans on Toast brings his special family-friendly show to the Get Off Your Arse weekend, singing a selection of songs including some of his best-loved children's songs. He will be joined by Commoners Choir with a newly-written collection of singalongs for children (Dialectical Materialism for the Under 12s). Children must be accompanied by an adult!
SUNDAY 16 JULY - doors 7PM
Beans on Toast (grown-ups show!) with Tracey Curtis
TICKETS - £16.50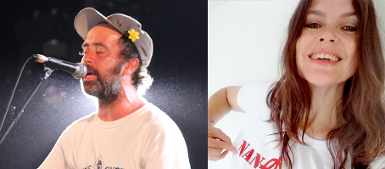 Sunday evening and a last chance to Get Off Your Arse with two modern-day troubadours.
After more than 10 years in the game, Essex born songwriter Beans on Toast has become something of a cult figure. He's written and recorded 10 albums, he's played every bar, club, venue, pub, festival, party and honky tonk you can think of and he's showing no signs of slowing down; he's loved every minute of it.
He's a hippy, a punk, a poet, a drunk, a die-hard romantic and an eternal optimist, singing simple songs that tackle big issues. Political protest songs for the modern day, honest and open love songs, songs that will make you laugh – but also make you think with no holds barred honest lyrics and quick wit.
"Beans on Toast writes easy, tasty, wholesome songs that are both comforting and familiar. Musical motifs include love, drugs, the environment and politics, though he never takes himself too seriously – to the benefit and entertainment of a live crowd. Beans is never happier than when he's in front of a live audience. It's far more than a concert, he chats and laughs with the audience, and you come away feeling like a friend and having been a part of the experience." (Big Issue North)
Tracey Curtis is a solo, acoustic, singer-songwriter from Wales. She is also known as a former member of punk band Shelley's Children, beginning her solo career in 2003, when her children asked her to write a song protesting a planned by-pass that would ruin their favourite natural play area. She records for Robb Johnson's record label and is recognised for her disarmingly and beautifully melodic, singalong protest songs.
She tours extensively, often doing benefit shows for causes such as Oxfam, Unions and prisoners support groups. She has performed with David Rovics and Chumbawamba.
"Tracey lays herself bare for scrutiny – there are no power chords or crashing drum beats to hide behind, but she remains a political singer; she expresses her views directly but does not allow herself to engage in a rant – perfectly balanced, full of wit, charm and humour." (Louder Than War)