Support us through patreon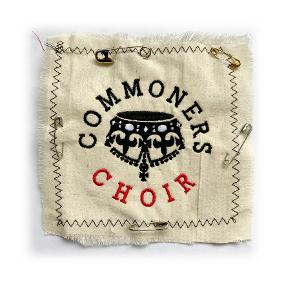 We've set up a Commoners Choir Patreon page!
For those of you who have no idea what that means, let us explain –
You may know who we are and what we do – we're Commoners Choir and our aim is to keep testing the perceived normal of what a choir does. You'll find us collaborating, walking, banner-making, re-enacting, recording, protesting, filming, teaching, disrupting and yes, singing. We are constantly striving to challenge our own boundaries and create events that celebrate collective achievements. We aim to react to the ever-changing world and reflect and question it in song. We want to be a collective voice with a shared vision, but one that doesn't rest on its laurels. We actively seek out stories and ideas that need to be shared.
Patreon is an online system whereby you can support and be part of what we do. By donating and being a Patron of Commoners Choir you will be helping to sustain the day-to-day inspiration to write, to think, to plan, to create, to tour. You can support us to think bigger than we already do. Donations start from as little as £1 a month.
By becoming a Patreon supporter you will be contributing to the choir's ambitions and will also connect yourself firmly into the strange and fascinating world of Commoners Choir. Once you decide to be a Commoners patron you'll have access to up-to-date blogs about what's happening now and in the immediate future, films of our rehearsals, recordings and video-making, a full, fascinating and interactive History of Commoners Choir, and the chance to hear songs and ideas as they develop. We'll send out specific and special Patreon gifts, you'll get the first look and listen to everything we do and we will invite you to feed back on any of the diverse projects we are planning.
In short, becoming a Patron will give you access to our work and will connect you to its development. Patreon is a way for anybody to help with the nuts and bolts of our work, to keep the fire in our bellies and the melodies on our tongues. Commoners Choir is made for these strange and confusing times and in the middle of this madness we want, with your support and input, to continue to be a sane, invaluable and even louder voice.