lots of exciting stuff happening next year
but in the meantime, here's an overview of some recent stuff
by
Catherine Long and bob longworth
C h o i r a l S c r a t c h
7" vinyl EP
Six singalong Protest Songs Released to greet Trump's visit to the UK on July 13th
Available to order now: See SHOP for details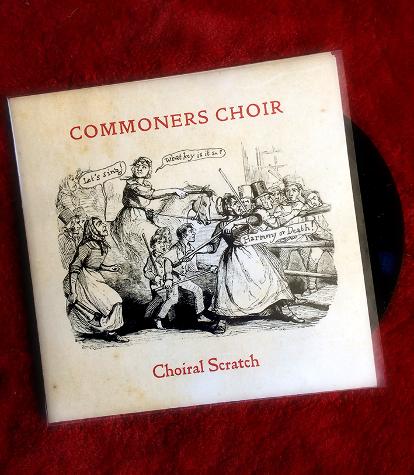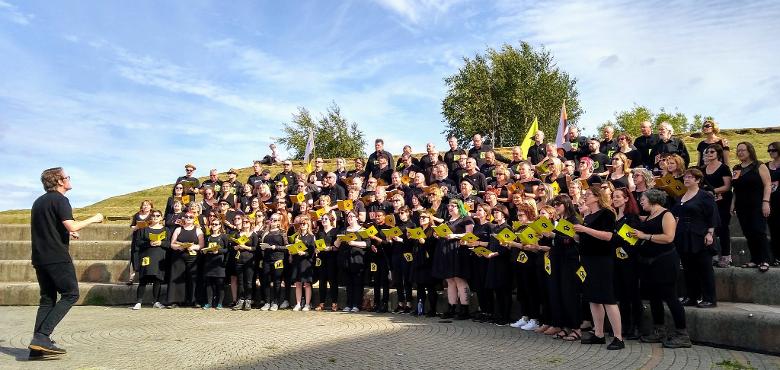 Our Trail-Blazing project, gathering together with Infant Hercules and She Choir for the epic 'True North', is done and dusted (for the time being). There's talk of doing it all again sometime, and if it does we'll post it here. But in the meantime (and while we wait for Phil Moody's documentary film of the whole project) click the links below for a couple of blog posts about that final performance in Newcastle as part of the Great Exhibition of the North...
Photograph by Sara Barnard
The 'More Than A Mouthful' shows are over – there's a new blog post about the whole thing here on the
Writing
page, called
The Hangry Brigade
. Have a look!
Next up: releasing the Singalong Protest songs (as a 7" vinyl EP...) in time for Trump's visit, writing and rehearsing the music for the Great Exhibition of the North, preparing for the Street Choirs Festival in Brighton... have we missed anything out? Lots of gigs and events coming up, see the Gig Page.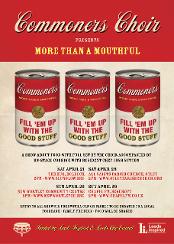 Commoners Choir also have a
Facebook page
(where we post news of upcoming events etc) and a
YouTube Channel
(full of videos and short documentaries about what we've been up to).
And here's our Trail-Blazing page, with all the details of our upcoming appearance at Great Exhibition of the North.
We won't reply here to that ignorant, blinkered Tory minister's description of campaigners who forced BAE Systems to withdraw from the Great Exhibition of the North as "subsidy-addicted artists" and "snowflakes". Instead we want to declare how happy we are to be planning a big, loud, fascinating project as part of the Exhibition. Together with Infant Hercules from Stockton and She Choir from Manchester we're aiming to sing a piece of music together that gets to the roots and heart and future of The North.
As we sing we'll be walking three separate routes through Newcastle before joining together to sing at The Sage in Gateshead. We'll sing about our different cities, our different histories, and about the places where our stories intersect. The ideas and lyrics for all this will be gathered from the choirs themselves.
It'll be a sunny afternoon and all thoughts of snooty Tories will be buried under the massed voices and harmonies...
Below is Commoners Choir's original press release.
Pulling out of The Great Exhibition of the North in protest at BAE 'primary partnership'
We are Leeds-based Commoners Choir and we create and manage arts projects and events that tie together choral singing with the everyday politics of where we live. Last year we did a tour of libraries in the North of England with a show that championed literacy, print and the value of libraries. Recently we appeared on ITV's 'Britain's Favourite Walks', commemorating the 1932 Kinder Mass Trespass by walking to the Peak District summits and singing specially-written songs about the legacy of the trespassers.
We jokingly call ourselves 'a Singing Newspaper'. A choir that reacts to what's going on around us day-to-day. Our latest venture was to team up with two other choirs (one in Stockton, one in Manchester) and create three walking, singing trails through Newcastle city centre as part of The Great Exhibition of the North. The idea was for the choirs to sing three specially-commissioned pieces reflecting their ideas about 'northernness', to sing some of the incredible stories that tell of these northern cities we call home. The three choirs would meet outside The Sage in Gateshead and join together, their three choral pieces becoming one intertwining celebration of the North. This was to happen on the opening weekend of the Exhibition, on the afternoon of Saturday 23 June.
This performance, involving around 100 participants, will no longer happen. At the full programme announcement for the Exhibition on Tuesday 27 February, which highlighted some of the fantastic events and performances that would make up the summer-long Exhibition, it became clear that one of the primary partners for the Exhibition will be BAE Systems.
This left us with no alternative but to pull out. There are plenty of researched and nuanced reasons for not wanting to make work that links to BAE which we won't go into here, but suffice to say that we felt completely unhappy being represented alongside a corporation with a track record in supplying weaponry to countries waging war on their own people and boasting appalling human rights records.
The commissioners we have been working with have been brilliant throughout, showing us enthusiasm and support, so we don't take this decision lightly. None of us are ever ideologically 'pure', and this is not about making judgements on how other people work (not least the many thousands of people working at BAE). But in this case, and in a time when weapons manufacturers (or in fact, their shareholders) benefit so heavily from civil wars, nuclear weapons proliferation and personal gun-use, we felt that as artists we couldn't justify working under the shadow of BAE's reputation.
It is, of course, in the interests of BAE Systems to be associated with arts events that celebrate community and creativity – and the Great Exhibition of the North looks like it will be a genuinely uplifting and exciting festival of ideas. So what better way for a company that deals in weapons of death to present a facade of energy, kinship and collaboration than in having their logo across events such as these?
Commoners Choir will continue to create site-specific performances that highlight our love of, and concerns about, the world around us – but without the cynical patronage of corporations whose success seems to be measured in body-counts.
• there's a new, full-length blog covering the past year's activities along with an article written by choir member allan clifford, over on

the writing page.

• SEE THE GIG PAGE FOR DETAILs of all sorts of gigs, events & happenings.
• latest video & song in our series of singalong protest songs is 'get back on your bus and go home', a jaunty anti-nazi number. see protest page.
We are a strange yet open and inclusive choir that meets in leeds. We come from all over the place, and try to act more like a band or a gang than a choir. we sing our own songs, about the world immediately around us, about inequality, hope, and tory politicians. we have an album available for purchase here on our shop page. for more information about us, about who we are and what we do, look around the website and visit our facebook page at:
https://www.facebook.com/commonerschoir/
if you're interested in joining the choir, drop us a line via the contact button above.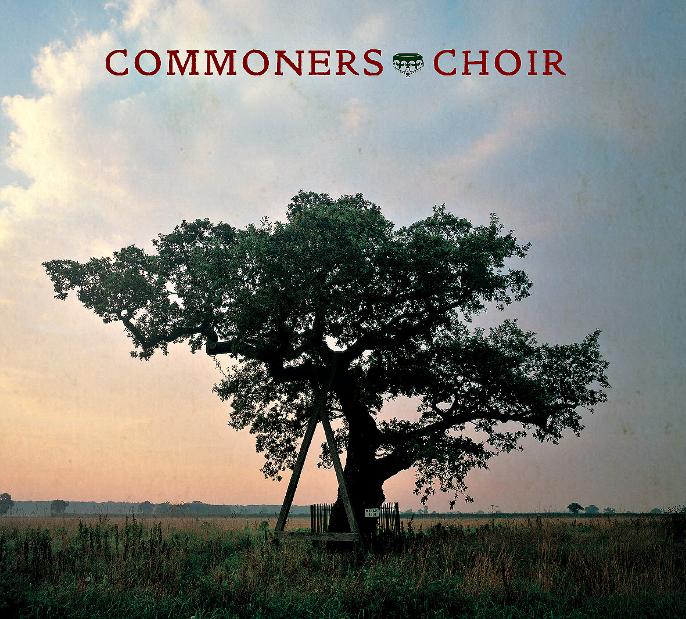 album available now!
21 tracks of protest, anger, humour and hope –
Commoners Choir's debut album now in the shops.
also available to order direct from
our
online shop
.
a short trailer for our album
we are putting out a series of 'singalong protest' songs designed for marches, demonstrations and protests. Something tuneful to blot out the usual megaphonic chants. Hopefully each song will be accompanied by a film, and we'll try to post up a new song every month from july 2017 for as long as we have energy and time. see the films and hear the songs on the protest page.
happy to say that the commoners choir tour of libraries was a real success (in whatever way you want to measure it). There's a write-up of it here.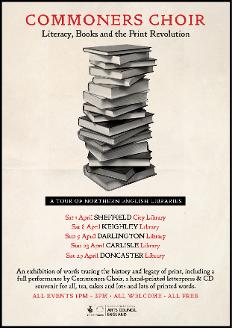 (ABOVE) A SHORT FILM by phil moody OF COMMONERS CHOIR'S tour of northern english libraries.
(above) 'mechanical movable type' • a short film of commoners choir's event at leeds central library, november 2016.
'boris johnson' BY COMMONERS CHOIR, february 2016 •
FILMING AND EDITING BY PHIL MOODY •
SONG WRITTEN BY BOFF WHALLEY, PERFORMED BY COMMONERS CHOIR
'three boats' by commoners choir, october 2015.
song written by boff whalley, performed by commoners choir –animation by josh sutton.
FOR AN ACCOUNT OF THE castleford boat trip, ALONG WITH PHOTOGRAPHS AND A SHORT DOCUMENTARY FILM OF THE DAY, SEE REHEARSAL/PERFORMANCE.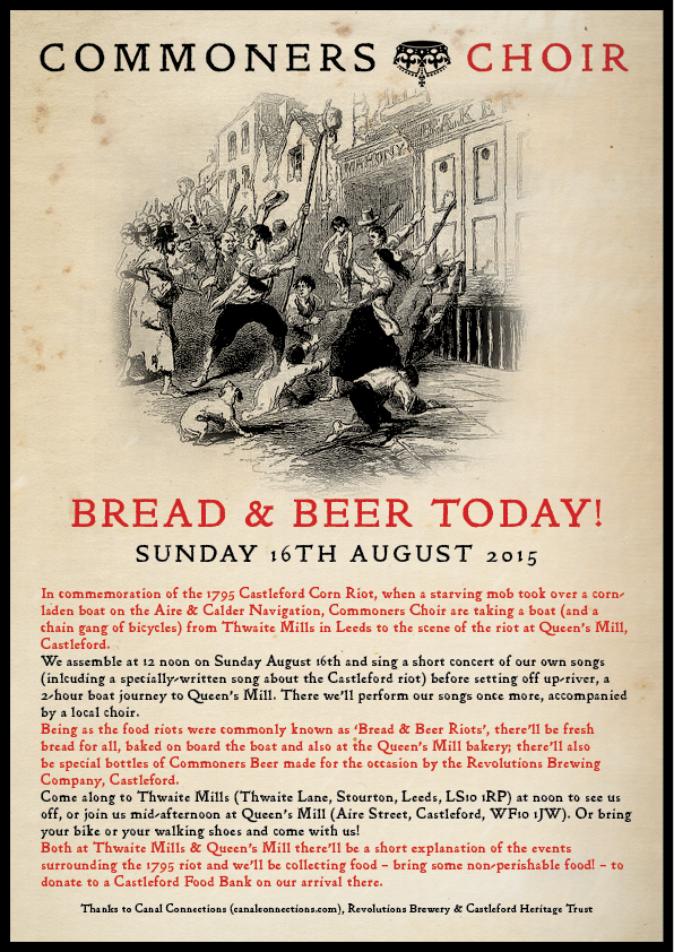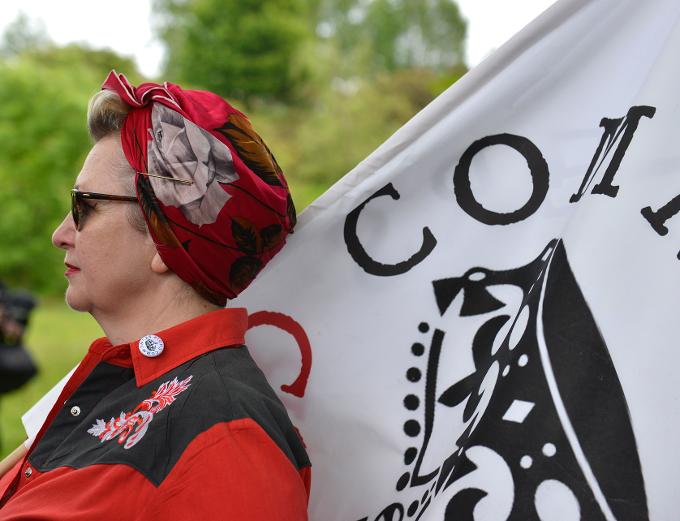 FOR AN ACCOUNT OF THE MAGNA CARTA COMMEMORATION EVENT, ALONG WITH PHOTOGRAPHS AND A SHORT DOCUMENTARY FILM OF THE DAY, SEE REHEARSAL/PERFORMANCE.
commoners choir (no 'the', no apostrophe) is a choir dedicated to singing about the world around us, its inequalities and injustices, and our (4-part vocal harmony) opposition to such injustice. commoners choir is also dedicated to reclaiming the fun of making a big noise together without lugging a vanful of instruments and amplifiers around with us. we're based in west yorkshire but we gather and sing wherever seems fitting. all together now (deep breath) –
writings, blogs and rants about commoners performances - as they happen - can be found on the writing page.