rehearsals
REHEARSALS are on mondays, MOST WEEKS EXCEPT SCHOOL / bank HOLIDAYS (and various other excuses), from 7pm - 9pm.
Feel free to just come along and join in.
rehearsals AT:
ROOM AG02,
broadcasting place, woodhouse lane, leeds, west yorkshire, ls2 9pd. Huge glass-fronted building in front of the rusty building... there are usually commoners posted at the revolving door to make sure people can get in.
confirmed rehearsal dates:
All rehearsals suspended... obviously.
SEE BELOW FOR various REPORTs OF past SINGING/WALKING EVENTs. (report on libraries tour 2017 is on the blog page).
CASTLEFORD CORN RIOT CELEBRATION - August 2015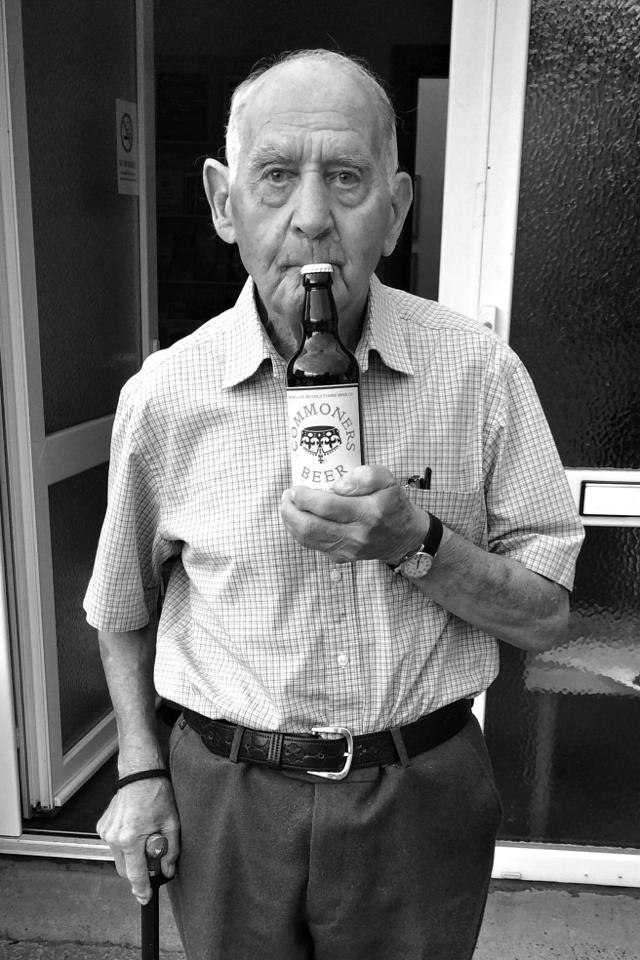 There are few things seemingly more
authentic
than sitting on a boat and travelling up a river at the vessel's maximum speed (5mph) watching herons lazily take off and land. I'm on my way back to Leeds, sitting on the boat's prow with half the Commoners Choir, and the easy talk, meandering between kid's TV programmes and environmentalism, stumbles into a singalong rendition of 'The Wombling Song'. Sara knows all the words. Ellie confesses to having five Wombles albums. Brian, over here from the USA as a history student researching anarchism and punk, is utterly baffled.
This isn't what media slang refers to as 'digital detox'. This is what I call authentic. Putting yourself in a place where you're not being advertised at, where a LOL is something you can actually hear, where you're not part of the real/not-real confusion of what Guy Debord called 'The Spectacle', where you aren't desperately clawing for status, where conversation is face to face, where a cup of tea isn't a core value lifestyle signifier, it's a cup of tea. Travelling along this river is much as it would have been, say, 220 years ago, when a boat carrying corn along this waterway – the Aire & Calder Navigation – moored up for the night outside Castleford and was ransacked by local townsfolk who were, for the most part, on the verge of starvation.
Admittedly, the ransackers (a good name for a band) weren't singing about Uncle Bulgaria picking up litter, but essentially they were part of a wholly under-represented majority treated as irrelevant flotsam and jetsam by a powerful elite, who, corn shortages or not, spent their lives in indolent luxury. A powerful elite who, educated at the country's top universities and brimming with a confidence born of inherited wealth and confidence, relied on the churches to construct a sort of makeshift welfare system, distributing basic food to the poor. The similarities are all too real.
Today we've dropped off countless carrier-bags loaded with donated tins, packets and bottles, and it's all been piled into the back of a car by a couple of fresh-faced church volunteers and taken off to distribute at the local Methodist food bank. Lovely people. As are the volunteers at Castleford Heritage Trust, who welcome our choir for a short concert – including our specially-written Castlefood Food Riot song – gathering a right good crowd of folk to eat the freshly-stoneground bread and listen to local historian David Pickersgill tell the story of that riot. As we pose for a photograph for the Heritage Trust's lively Alison Drake, watched on by several tables of pensioners drinking tea and enjoying the afternoon sun, she asks us to "raise your fists, ready for the riot!" And we do, holding aloft our bottles of (specially-bottled) Commoners Beer and wondering how on earth we ended up here.
Josh Sutton, one of the Commoners, is a bit of an expert on the history of food riots. He also exemplifies certain notions of 'authenticity', spending his life whittling bits of foraged wood into utensils and weapons while cooking up gourmet meals on a camping stove. If he can make something instead of buying it, he will do; he'd be a caveman if it wasn't for his deep love of loud amplified music. As the boat travels up the Aire & Calder he bakes small flatbreads for the Choir, and coupled with a hunk of cheese and a bagful of apples from his own tree he helps conjure up a flavour of those simple times before, y'know, LED watches and pocket calculators. Back when folk used to riot, both as an expression of having reached the end of their tether, as a way of being heard, and because they fancied a telly from Curry's on the high street.
A way of being heard, yes. When politics has become a sophisticated stitch-up between right-wing media and right-wing careerist MPs (of every hue), there are less and less ways to engage in real change. One thing people have started to do is to organise locally and personally, constructing meaning out of our everyday lives that isn't tied to capitalism. People are searching for what's real, everything from singing in choirs (there are now more than 25,000 choirs in the UK) and walking in the countryside (despite the overall fall in numbers of people walking for transport, walking for recreation is increasing) to gardening (the share of fruit and vegetables consumed in the UK which are grown in allotments or gardens is rising rapidly). Commoners Choir is our way of both reconnecting to a fundamental, physical, free activity and a way of being heard. It's as near-as-dammit authentic and as far removed from the ugly fakery of The Voice as we can make it.
Trevor is the boatman for a company called Canal Connections, which moors its boats down at Thwaite Mills in Leeds and teaches boat skills to kids in social action programmes. He's on our side, a historian with a blunt sense of humour who knows what we're trying to do with Commoners Choir. He arranges a boat and crew for us, gets us a room in the Mill to gather, and sends us on our way after a sing-song at the quayside. The boat's not big enough for all of us so some cycle, some walk and some run part of the 10 miles or so to the Castleford Heritage Trust's Queen's Mill. A game of swans watch us pass, listening to us singing our signature song 'Get Off Your Arse' as we wait for locks to open and close. (Yes, I had to look up the name for a group of swans. They're a game on the water, and a wedge in the air).
Several weeks ago I went to see an exhibition at the Barbican Centre in London, called 'Magnificent Obsessions – the Artist as Collector'. It was a series of beautifully-presented gatherings of stuff that famous artists had amassed in their homes – Peter Blake's collection of porcelain elephants, Andy Warhol's accumulation of Mickey Mouse figures. It was, though, apart from a couple of exceptions, pretty dire. It said nothing of the artists; didn't shine much of a light on their motivations or their passions. It was all just… stuff. Everyday stuff. Karl Marx asserted that capitalism stole the 'soul' from objects, rendering stuff that previously had meaning as just things. Which brings me back to authenticity and what's real – looking at the artist's collections at the Barbican I saw only soulless artefacts, neat clutter. Talking to David Pickersgill at Queen's Mill in Castleford, he explains that a group of volunteers have discovered the original huge gear cogs used for operating the waterwheel, buried under several feet of conrete by the mill's departing owners years ago, and that his weekends are spent digging through the concrete to unearth and restore the cogs. Eventually, he explains, the waterwheel will be resurrected to turn the stone that grinds the flour. The way he talks of the building is not as a manufacturing centre but as a place with soul, with meaning. A place to make bread, good bread, not that fake bread that comes wrapped in plastic with the tag-line "Bread wi' nowt taken out" (except its soul, and its meaning).
Talking of bread: the number of people using food banks in the UK has now passed the one million mark. The final verse in Commoners Choir's song about the Castleford Food Riot reads:
All along the old canal to 1795
The Commoners Beer had all been drunk by the time that we arrived
Cameron and Osborne were waiting on the shore
Saying 'there's never the money to spend on food but there's plenty to spend on war'.
The UK now boasts 117 billionaires, and the total wealth of the top one per cent has reached a record £547 billion. The director of the Equality Trust, Duncan Exley said: "There's always been this idea of trickle-down – that the rich get richer and will bring the rest of the country with them. These people who are called wealth creators aren't creating wealth for others; they're creating it for themselves. The rising tide is not lifting all the boats."
And so on boat time, at a steady 5mph, we travel back through the centuries and find ourselves again at Thwaite Mills, at the end of a long, long day of singing, laughing, and talking. Like the walks we've done as a choir, the idea is to reconnect to both our shared histories and to the world around us, to re-route our political ideas away from clicktivism and towards a literal feet-on-the-ground politics rooted in communal singing. Or in today's case, feet-on-the-deck. Our boat is tied up and we climb onto the bank, heading off into the dusk of Leeds with our souvenir Commoners Beer, mutiny on our minds, whistling down the captain's flag as we disperse homewards.
Click on thumbnail below to see picture. All photos by Casey Orr.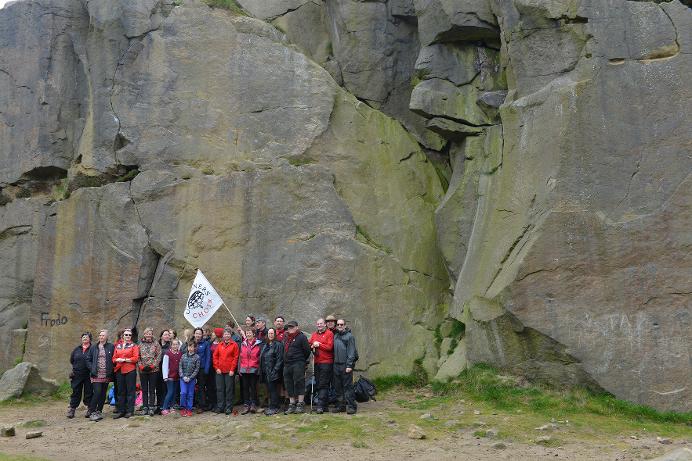 MAGNA CARTA COMMEMORATION - JUNE
2015
The weather forecast predicted rain, so we gather all buttoned up. The Commoners Choir flag doesn't so much flutter as hang, heavily. It doesn't matter – and I repeat the use of the word 'doesn't' in satisfying defiance of Michael Gove's insistence that his civil service underlings only use 'does not' – for it's noon on the day of another Choir event/performance/happening and 25 pairs of lungs and legs are ready for a sing-song and a scrap, watched by a fair crowd of folk peppered around the Charles Darwin Memorial at the foot of Ilkley Moor. Straight in with the opening song: 'Get off your aaaaaarrrrrrrssssse!'.
Today marks the 800th anniversary of the signing of Magna Carta. All over Britain there are official celebrations to commemorate this well-known piece of our history. In essence, many of the planned celebrations are based on a historical fiction – the Queen herself (whose ownership of huge areas of British land is worth around £7 billion ) will attend a party on the banks of the Thames near Runnymede to give the royal seal of approval to a document originally written to oppose royal power over both commoners and common land. When The Commons – large expanses of land that were farmed, worked and owned by the ordinary people of the country – were under threat from King John in 1215, a gathering of 'rebel barons' gathered to compose an edict that would put a stop to the plunder and would safeguard that land; at Runnymede they forced the King to put his name to the charter.
Magna Carta Libertatum ('Great Charter of the Liberties') laid down a legal framework for protection of church rights, protection against illegal imprisonment, access to justice and limitations on payments made to the Crown. It was issued alongside the equally-important Charter of the Forest, which re-established rights of access and use of the forests and land by commoners.
That we still, as a nation, celebrate this radical document disguises the fact that common land has over the centuries been gradually and systematically taken away from us; most of our rights over what used to be commons have been superseded by the rights of industry, the military, corporations and the wealthy (including, significantly, the Crown). Around 3% of the land area of England is recognised as common land.
Nevertheless there are scatterings of ancient common land not transformed by aggressive agriculture, city architecture or by landlordism, not least in and around West Yorkshire, and one of the largest is Ilkley Moor. And here come the Commoners Choir, to celebrate the spirit of Magna Carta and to champion the remnants of our common land. In our raggle-taggle semi-circle we sing songs in front of the Darwin Memorial and the drizzle disppears into a muggy breeze. It feels good to sing out here, to stand with Darwin's sculpture and sing up to the moor hunched over us. Songs over, we head off, up the rocky path to the White Wells. Had we been walking this steep route in 1859 we might have seen a white-bearded, felt-hatted bloke in a big overcoat puffing and panting his way up to the small circular bath in the White Wells building to 'take the waters'. Might have peeped in and seen him submerging himself in spring water advertised as a 'cure-all', all the while complaining about his aching joints. Charles Darwin was a hypochondriac, by all accounts, and his scientific mind constantly invented new contagions and ruptures for himself. But on that day in 1859 he was here not only to dip himself in the freezing Yorkshire water but to escape the hullabaloo that accompanied publication of his game-changing 'On The Origin Of Species', a book that made direct links between ourselves and nature – and by extension the land we walk on – and effectively stated a case for cutting out the middle man (God). This also handed us the responsibility of shared ownership, something we'd previously entrusted to God's appointed Kings and Queens. So it's with a sense of history and philosophy sticking to the soles of our boots that we reach White Wells, look back across the valley, and wait for the crocodile line of singers, walkers and ne'er-do-wells to form a clump. Then we're off again, up onto the moor's ridge and out into the open spread of the world. It's a lovely sight.
Commoners Choir is here (and there) for various reasons. To protest at the inequalities around us. To sing, or to learn to sing. And to come together in a higgledy-piggledy cluster of a community. As author Jay Griffiths puts it, "Singing with others is an unmediated, shared experience as each person feels the same music reverberating in their individual bodies. Singing is part of our humanity; it is embodied empathy." By which she means that there's a physical rush when your own voice resonates against someone else's, when a harmony suddenly clicks into place, a buzz and click that can only happen as a shared experience. Add to this the sheer physicality of being out on the earth that we're singing about, coupled with a sense of place and history, and the Commoners Choir begins to make joyous, positive sense.
When I was spending all my time playing rock 'n' roll, I read repeatedly that the thrill of the music was 'visceral', meaning unexplainable, instinctive and non-intellectual. I understood it but wanted to fight against it, always wanting context and explanation, reason and definition. The word visceral comes from the Latin, 'viscera', meaning your internal organs, from a time when your emotions were said to originate in your bowels (ex-KLF member Jimmy Cauty once built a sound system into a Saracen tank which he claimed could fire sound frequencies so low and loud that anyone within earshot would have to run to the toilet). Commoners Choir is neither 'visceral' nor rooted in the bowels but it is, at best, a sum of lots of parts, a collection of ideas thrown together and messed with, and a palpable thrill to be part of.
The day-to-day onslaught of digital technology over the last two decades has undoubtedly led, in reaction, to an upsurge in people joining choirs and going out walking – people looking for real-life community with an emphasis on simplicity and tradition. The Commoners Choir events want to build on this, by encouraging people to embrace the natural connection between people and place, between community and common ownership, between positive action and personal understanding of our place in the world. It's not just singing, y'know…
So we're dropping down from the moor now towards the Cow & Calf Rocks, in effect a massive stone amphitheatre carved out as a quarry in times past. The Cow is a gigantic boulder large enough to hold thirty people and looming over the edge of the moor, from the town below appearing as a dynamic silhouette against the typically slate-grey skies. The Calf is a smaller rock, still forty or fifty feet high, which has broken away from the larger rocks above it and sits alone, looking up at The Cow as if they might one day be reunited in some geological catastrophe. My original idea for today's performance was for the Commoners to clamber up onto the Cow and sing out across the valley below – this hope is dashed by the high winds and the worried (and not unreasonable) mutterings of '"all it takes is one slip and we'll be singing at someone's funeral". So we march round and down into the quarry, using the sheer face of the rock as a backdrop, and sing again. People gather to watch, high up on the lip of the quarry or perched on natural rock ledges jutting from the stone. A dog barks at us as we sing. It feels great. Sounds great, too – we're getting more confident in our singing, locking together and learning from each other.
Then it's back through the rocks and high ferns, winding our way down from the moor to the Darwin Memorial. Everyone's smiling, tired and satisfied with the buzz and joy of a day well-spent. We're already talking about what to do next, what madness we can conjure up. We still haven't worked out what we ought to wear as a choir – my suggestion of yellow plastic Devo suits wasn't taken up – and judging by our two recent performances there's a fear that we may be stuck with rainwear and solid walking shoes.
And I almost forgot – there's a new song that we sing especially for today, called 'The Common Good', which specifically links the signing and betrayal of Magna Carta 800 years ago to our present-day undemocracy, a direct line between the illiterate, power-hungry King John and our current Prime Minister, both flaunting their sense of entitlement and both ripe for an uprising.
On the banks of a river in an open field
Where Crown and Cameron shake on the deal
See the dead-eyed descendants of old King John
Telling their lies in Mail and Sun…
King John, clinging onto both his gold and his power, ended up with a chronic case of infectious diarrhoea and died. Perhaps for our next event, Commoners Choir could climb atop Jimmy Cauty's tank and, singing as we go, drive to Downing Street. Ready, aim, flush.
Click on thumbnails below to see larger images.
All photographs, including at the top of this article, by Phil Moody.
Film by Chian Gatewood.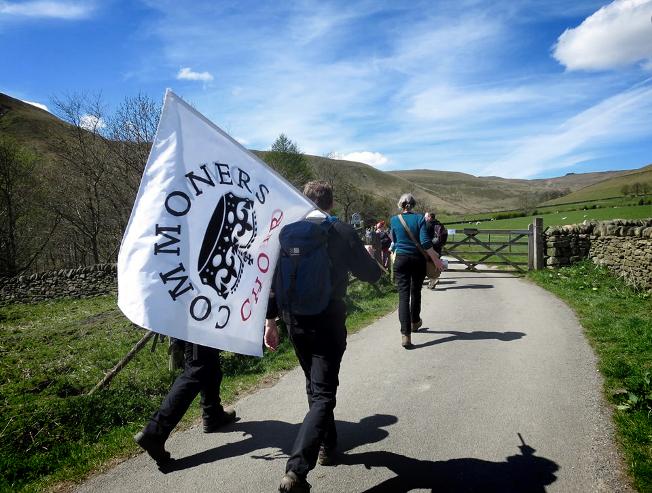 The flag on its way up to Kinder Scout. Photo by Helen Sheard
Commoners & Trespassers
Walking with history stuck to the soles of your boots. That's what I call it when you get the chance to re-trace the footsteps of those who marched, battled, struck, demonstrated, petitioned and trespassed so that we can enjoy the freedoms and victories they fought hard for.
The 1932 Mass Trespass of Kinder – organised by the Manchester branch of the British Workers Sports Association – was a gathering of over 400 people who purposely walked up and onto the privately-owned land around the Kinder Plateau in the Peak District. They were met by gamekeepers hired by the land-owners, who began to beat back the walkers with sticks. A brief fight took place before the ramblers continued victoriously to Kinder summit. After sandwiches and a sing-song the trespassers returned to Hayfield village.
There they were confronted by a small army of policemen who arrested six of the ramblers, five of whom were subsequently tried and sentenced to between two and six months in jail (the jury consisted of two brigadier generals, three colonels, two majors, three captains, two aldermen and 11 country gentlemen).
The arrests and imprisonment had the effect of galvanising the public, and a few weeks after the trial a mass trespass in the Peaks assembled with 10,000 walkers defying the landowners. These mass trespasses continued until Parliament bowed to populist opinion and began to legislate to grant access to large areas of open land, establishing our National Parks and supporting the development of long-distance footpaths.

Last Sunday a group of 40 of us – some from the Commoners Choir, some friends and family – met in Edale on the sunniest of days and set off to walk in the footsteps of those trespassers. We carried the Commoners flag up Jacob's Ladder, stopped to eat sandwiches and shared cake, and stomped along to the rocky outcrops of the summit skyline. There we gathered and sang a song for the first Kinder Trespassers: its repeated refrain of 'Real change comes from below' hurled into the breeze and scattered right across the valley below us.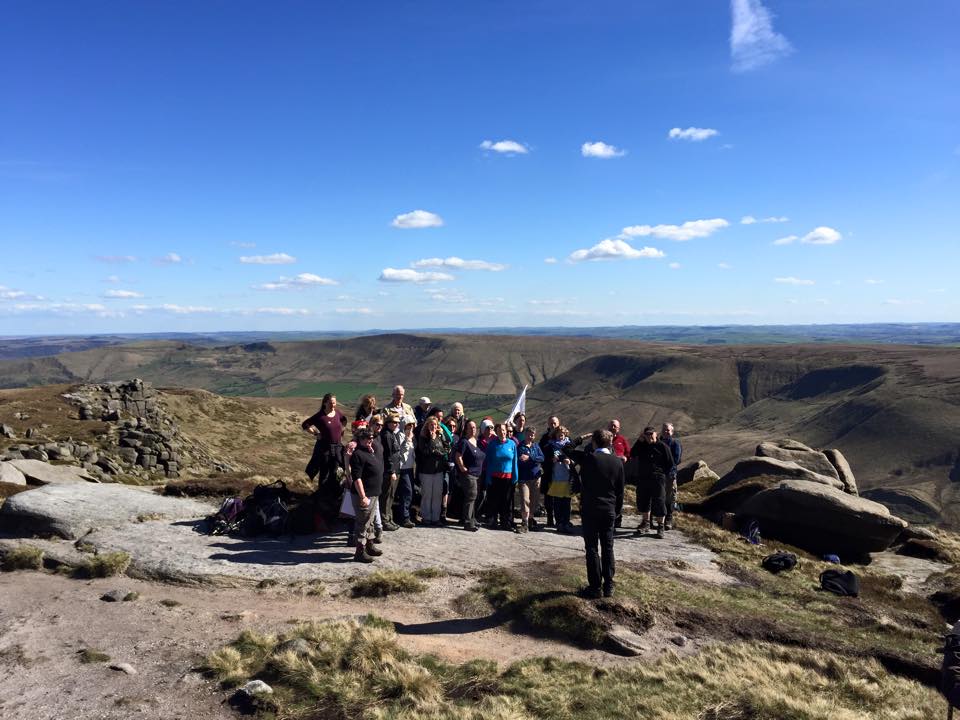 UP ON KINDER PLATEAU • PHOTO BY CASEY orr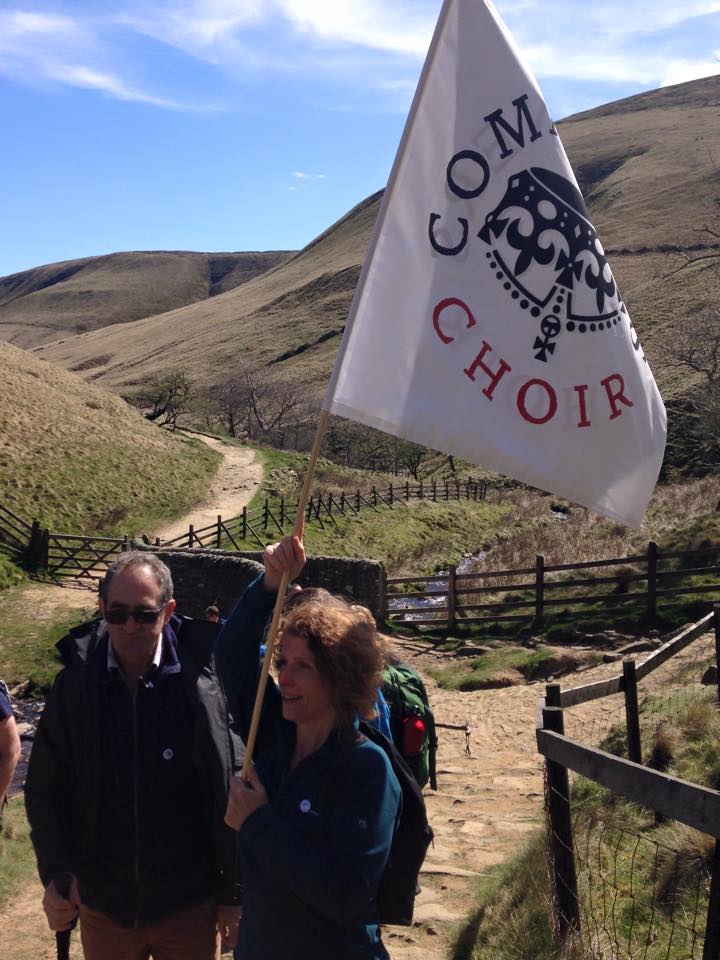 phil & naomi • PHOTO BY vic cutting
WHAT'S IMPORTANT HERE ISN'T JUST OUR SENSE OF HISTORY, OUR RESPECT FOR THE PAST. THIS ISN'T LAYING WREATHS AND GIVING THANKS. IT'S UNDERSTANDING WHAT LINKS US TO THOSE TRESPASSERS, WHAT LINE HAS BEEN DRAWN ACROSS THE YEARS TO MAKE THIS PILGRIMAGE RELEVANT. LAND OWNERSHIP, WITH ALL ITS ATTENDANT THEMES OF ACCESS, POWER AND WEALTH, IS STILL INCREDIBLY IMPORTANT, BECAUSE IT'S STILL UNFAIR AND IMBALANCED. SO WE CAN CELEBRATE THE PIONEERS, MAVERICKS AND TRAILBLAZERS WHO FACED THE GAMEKEEPERS' STICKS (AND ESPECIALLY THOSE FIVE RAMBLERS WHO SPENT UP TO SIX MONTHS IN JAIL IN 1932 FOR THE CRIME OF WALKING IN THE ENGLISH COUNTRYSIDE) BUT WE CAN'T – OR AT LEAST, WE SHOULDN'T – COMMEMORATE WITHOUT LOOKING AROUND US FROM THAT PEAK DISTRICT SKYLINE AND WONDERING WHAT WE OUGHT TO BE DOING HERE, AND NOW. EARLIER I TALKED ABOUT THE 'FREEDOMS AND VICTORIES' THAT THE TRESPASSERS WON; WHICH ISN'T TO SAY, IN THIS AGE OF CORPORATE WEALTH, MEDIA POWER AND POLITICAL CHICANERY, THAT THERE AREN'T STILL A THOUSAND MORE VICTORIES TO BE WON.

SO THE COMMONERS CHOIR GATHERED UP THERE UNDER THE BLUEST OF APRIL SKIES AND WE SANG OUR HEARTS OUT, AND THE SINGING GATHERED US AND ROOTED US AND TIED US TO BOTH THE PAST AND TO THE FUTURE. THEN WE HEADED OFF DOWN THE TRAIL AND BACK TO EDALE, NINE MILES OF FLAG-BEARING, HARMONY-SINGING, NATTERING AND GAZING. A RIGHT GOOD DAY OUT. WITH A POINT.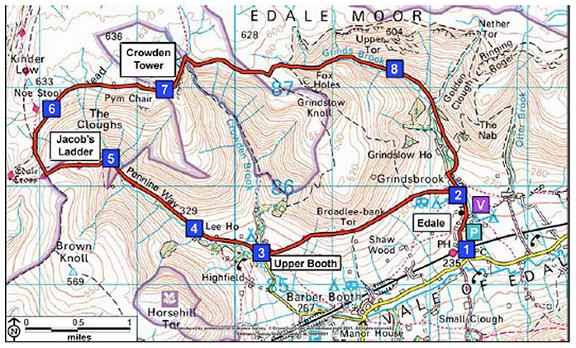 not quite the route – we took the path over grindslow knoll on our return.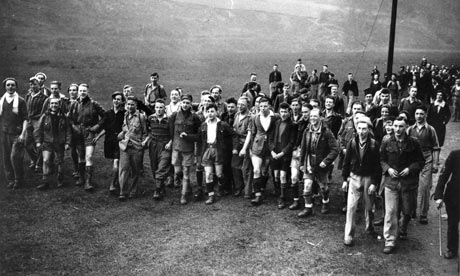 setting off on the 1932 mass trespass