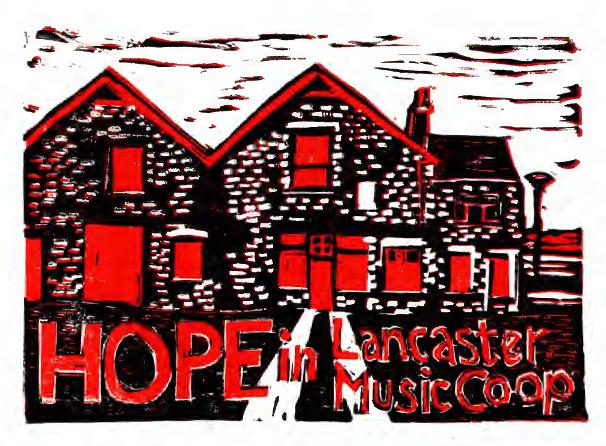 hope and Chorus
Catherine Long on commoners' Recent Visit to Lancaster
'Hope' is the song that the Commoners sing as an antidote to our anger and frustration about so much that's wrong with the world. It usually comes at the end of a set, and it's brilliant to sing – even if sometimes we get carried away with some slightly out of time clapping… In the face of austerity, discrimination, the rise of the far right, lying politicians and greedy corporations, we need to hang on to the fact that people are out there, organising and finding their own ways to fight back. Our song celebrates that loudly and joyfully.
It was inspired by the American writer, Rebecca Solnit, who wrote a book called 'Hope in the Dark' in the early 2000s and is still doing her best to share stories of hope on an almost daily basis. She wrote it at what seemed then a bleak time: a million people marched in London against the war in Iraq but were completely ignored; George Bush, with the blood of that war on his hands, won the US presidential election despite the fact that a majority of American voters didn't choose him; Celebrity Big Brother was launched…
Solnit is articulate and passionate about how in the darkest times it's important for us to remember and document stories of hope to inspire ourselves and each other. Her book tells stories of movements and people who wouldn't take things lying down but found positive ways to resist and create. And even though in these days of Trump, Bolsonaro and Duterte things might seem even bleaker than they did in 2003, there are still so many great stories from which we can take heart and take action. To use a phrase of Solnit's:
"We can change the world because we have many times before."
As the Commoners travel around to gigs, we come across stories of hope in every place we perform. Last week, we headed north west to Lancaster to sing at a great co-operatively-run space, Halton Mill. The Mill has been converted from dereliction to a busy arts centre, and is part of a 41-house estate, every building run on environmentally-friendly systems. An eco-estate built through the dedication, labour and (yes) hope of a bunch of determined people.
And we learnt about a brilliant local struggle to save another co-operative, the Lancaster Music Co-op. The Co-op had been running for 33 years, providing rehearsal and recording spaces at as low a cost as possible and serving as a launch pad for many musicians and bands. After a long, long waiting game with the local council, in which the Co-op wanted to improve its space so it could offer more to the musicians using it (but weren't able to because the council and a large property developer were going to redevelop the whole area), they were suddenly served with an eviction notice.
Musicians and local residents who loved the space and the support the Co-op offered mobilised quickly and got thousands of people to sign up to a petition and to protest to the council. And the day before our gig, they had a victory – Lancaster City Council voted unanimously not to evict the Co-op and to move towards giving them a long-term lease. All sorts of people spoke passionately about the importance of the co-op and of music in their lives and how such spaces make all the difference to the life of a city.
In the grand scheme of things, saving an affordable space for people to make music in a city in the north of England might not seem so much of an achievement. But that's what hope is about – keeping the door open for people to gather, to create, to laugh together and to make stuff happen. Every victory is important and each one keeps us singing.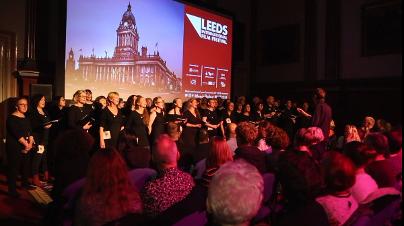 BUSY BUSY BUSY
bob LONGWORTH rounds up a hectic period
It's been a busy few of weeks for Commoners Choir. Singing (and starring in) the Leeds International Film Festival, being part of the George Orwell Exhibition and... my best bit of all... doing a gig with the Notsensibles!
This flurry of activity started when we supported Reem Kelani at a charity gig for a Palestinian Women's charity based in Sheffield. Reem is a force of nature ("sings like an angel, swears like a trooper" as Mark put it) who had us singing backing on a few of her numbers. With very little prep, she managed to pull a great sound out of us and wore her Commoners patch with pride.

The film festival event was the public debut of a documentary by Commoner Phil Moody, aided and abetted by Commoner Carolyn Edwards, about the song 'True North' which we performed with two other choirs at the start of 'The Great Exhibition of The North' in Newcastle. One of those wonderful events that you look back on with great pride, which this short film elegantly captures. It's 20mins long so grab a cuppa and have a look.
Boff wrote a song about George Orwell and The Road To Wigan Pier for the set of food-based gigs we did earlier in the year called 'More Than A Mouthful' (tea towels still available at the Commoners shop). With food poverty and foodbanks on the rise it feels like we're "walking back to Wigan Pier". So, when the curator of the travelling, Orwell-inspired art exhibition, asked us to sing it at the Leeds opening, we jumped at the chance. You can hear us and see the art here.

The next night we were up in Lancaster at an amazing Co-op they have up there – not the music one that the Lovely Eggs helped to save, but another one with shared eco-housing and an old mill (Halton Mill – where they used to make mechanical elephants!) that's been turned into an arts space. Our support was the Stephen John Hartley band – ex of the Notsensibles who did a great set of new songs (and one old one) with loads of stories in between – mainly aimed at 'Boffo' as they were in the same class at school together in Burnley. He's also been an A+E consultant in his time as well as running a record label, doing some printing and keeping an allotment. I got his book and what a great read it is!
So with one more gig to go (Hebden Bridge Trades Club – 14th December) it's been another tremendous year for this raggedy band of ne'er-do-wells... heaven knows what we'll be doing next year – what a joy!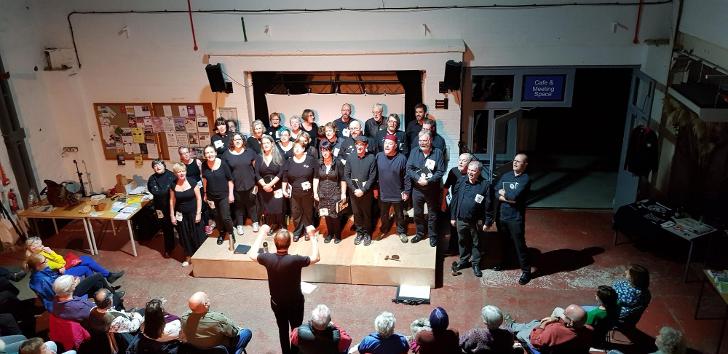 Commoners at Halton Mill in Lancaster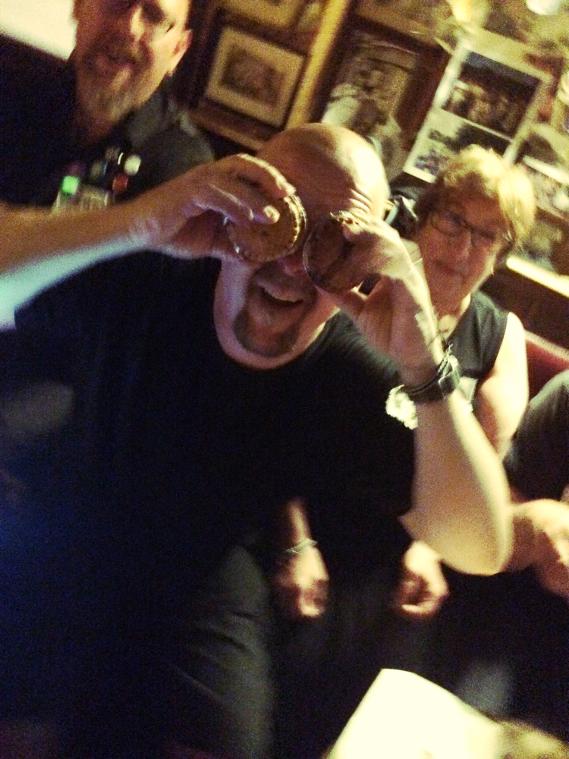 Commoners Go Wild At The Seaside
Jane morlandand Catherine Long with a seagull's eye view of the
BRIGHTON STREET CHOIRS FESTIVAL 2018
What a brilliant weekend. 42 Commoners by the sea on one of the hottest weekends of the year, laughing, swimming, dancing, having the odd drink, and, of course, singing.
The holiday feeling, sun shining, coffee in hand. Grim Friday motorway driving, and six sticky hours later we arrive in the cosmopolitan throng. Brighton feels alive, packed with tourists and singers alike. It feels like we have arrived at a big conference as we collect our packs for the Street Choirs festival. Only the woven wristband hints at something different.
No time to sing yet, there's a big ocean to be discovered. We race to the water and before too long Commoners in all manner of swimwear (and some without) dive into the cold sea. Now we are definitely on our jollies! Chips, beer and dancing in the pub to follow. Josh and I shuffle and swing in a tiny space between a bench and the bar, but we love it. More join in the dancing, to the laughter of our friend Dunstan, now a Brighton local, who tells us people don't dance in this pub. Well, they do now.
We are down in Brighton for the annual Street Choirs Festival, hosted every year by a different choir in England, Scotland, Wales or Ireland. The festival is about hundreds of people gathering to sing, and this year the focus is on songs about protest and coming together. OrganisersHullabaloo Community Quire do us all proud, offering a warm welcome to their lovely city and making the hosting of nearly forty different choirs singing all over town (and en masse) seem like an easy task.
Commoners Choir are at the festival for the first time and we don't quite know what to expect. Boff describes the hilarious panic he can see in the eyes of lots of us at the Mass Sing rehearsal on the Saturday morning (all the choirs sing a few songs together at one point over the weekend), as we realise that the other choirs a) can read music comfortably and b) have done their homework before coming...We feel a bit rebellious on the back row as we learn, guessing at tunes, watching the dots rise and fall, Boff waving his arms about confidently in a predominantly female world.
In the end we all gather tosing together down below the Promenade, in the extreme heat, sea behind us, town in front. It feels wonderful to sing with so many people but just too hot to be standing – we use the song books as sun shade. We hear the songs going in and out of time, five people in various forms of arm-flapping and facial expressions trying to keep us all together.
After the discipline of trying to sing complicated and lovely harmonies with hundreds of other people, the Commoners busking slots feel great: tight, passionate and funny. Never have we sung our songs so fast – we have a lot of energy to burn!Busking in the shade is lovely, supportive faces watching and joining in. There is definitely a warmth towards us and our songs and we revel in that. I love the moment when the Hullabaloo choir sing one of Boff's songs and they all clap him and treat him like a hero as he sits quietly on the grass, Phil Moody singing his bass part in my ear.
The sea beckons, and this time it's a comedy watching Commoners trying to walk on the cobbled beach with screams of ooos and aaahs, not in harmony but in pain trying to get back to their towels.
We warm up for our performance slot at the evening concert, each of the choirs in turn singing to an audience of hundreds of choristers. And in that echo chamber of a room, Brighton's wonderful Dome Theatre, we make our big booming sound of riotous hope.After our six minutes on stage, the wall of clapping and stamping that sweeps over us is overwhelming. The street choirs are such a lovely, generous bunch. And blimey, they can sing!
We retreat and head for the local pub. The Hand in Hand, like a lyric in one of our protest songs. We sing and drink and drink and sing, and the landlady tells us she has had the best night in 10 years as we swig her rum and hoarsely belt out our anthem, 'True North'. We sing with passion and spirit, Boff trying to set us off on the right key. We probably sound like a bag of shook spanners, but it doesn't matter. This isn't about the sound, it's about the sharing of the singing, the squashed-togetherness of songs and sweaty bodies. We can see the landlady crying, so we sing louder and prouder, the rum tasting nicer with every swig. It gets late and the landlady gives us a tour of the cellar brewery (she brews her own beer and very tasty it is),then there's more late night drinking back at the amazing house as late night revellers (lost and wandering Commoners...) stop by, or fall in to our house and stage a lie down protest.
Sunday is a day for collective breakfast, endless rounds of toast and avocado. Some go for a swim fix, some head off for workshops. Boff has slipped away to pass on protest song inspiration. The collective sound in the workshop is great but almost too sweet, and we escape the sauna to find our way back to the minibuses.
'Our bus is better than your bus' is the theme for the return leg. Still hot, now knackered but all agreeing that we have had a joyous time, sharing, hearing other choirs sing their songs and singing ours. Spending social time together makes us appreciate what we have in the choir and each other.
The weekend confirms for me why I love singing with the Commoners. We aren't necessarily the most musically accomplished, but we have passion and humour aplenty and Boff's songs can't be beaten. We'd spent the previous weekend singing together in Newcastle, (what an incredible day), and in Hebden Bridge, (always a joy), and here we were again, sharing minibuses, houses and mates' floors, breakfasts and beers, still finding stuff to laugh and argue about and still enjoying each other's company.
All weekend we dipped in and out of the Festival, enjoying learning about and with other choirs, but also finding that great food, the sea, pubs, and a chance to catch up with families and old friends were temptations that meant that we weren't always the most diligent of participants. And if at times we stuck together a bit too much and socialised not quite enough with others it's because making an angry, hope-filled and mostly harmonious noise with a bunch of friends is a sheer joy!
Who knows whether we will get to Manchester next year? We might if someone can rustle up a beach, a lovely local, the sun and the spirit of 800 people coming together. Commoners can party anywhere...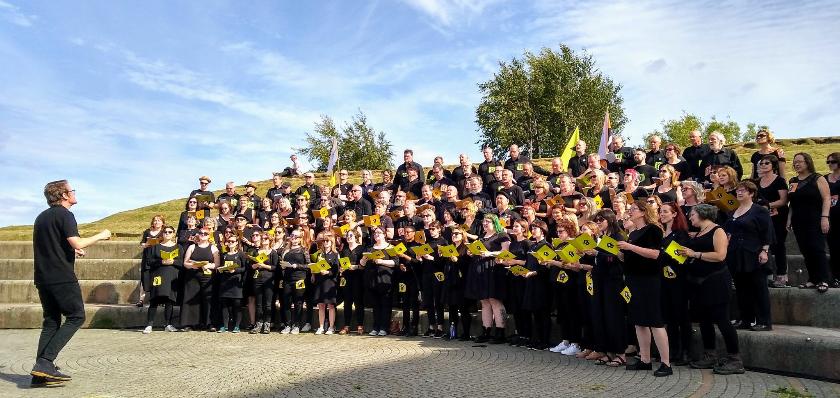 Singing that Song – GETNorth 2018
Commoners Choir's Sally Harrop writes about our big day out in Newcastle
Commoners Choir has had many adventures singing raucous, inspiring and uplifting songs, but this gig promised to be one of the best so far. There was to be a party, a celebration of all things good in the North of England. An 'exhibition that celebrates great art, culture and design of the North of England, showcasing local artists and performers, cultural organisations and creative businesses...' according to the Cameron government in 2016, as part of their Northern Powerhouse initiative, in the hopes that the event would attract more investment in an area that perhaps wouldn't seem so grim after all.
The excitement and joy emanating from Boff, Jane and Josh when their project got the go-ahead, after an arduous selection process, gave us an indication that it was 'going to be big'. The BBC were going to be involved, we were told –we'd be on the telly! We'd be working with two other choirs, we were told, and there'd be a fantastic new song we were all going to sing as one. Without any prior rehearsals together. Being filmed. Gulp. We knew Boff had form, as he had done something similar a year or so earlier, but nothing on this scale. I hadn't realised that it was George Osborne, lately the Chancellor of the Exchequer responsible for extending austerity into tyranny, who came up with the idea of The Great Exhibition of the North, but even that knowledge couldn't put a crimp in it.
The next thing we heard, in a frantic note from Boff, was that it was all off. At the full programme announcement event in Newcastle, Jane, Josh and Boff found out at the last minute that BAE systems were one of the main sponsors of the event. As a choir we sing about social injustice, we are political, we care, we have opinions (do we have opinions!). This was never going to work for us if corporate arms dealers were involved, no matter how many jobs they provide for locals. Reluctantly, and devastatingly for the three people who had put the bid together and got the gig, we pulled out, along with Nadine Shah and amid further unhappy rumblings from a few other participants. It was the right thing to do, but boy, did it hurt. Then, miraculously, a few days later, BAE pulled out. A flurry of conversations followed and then we were back on track, all systems go.
The choir has increased in size quite a lot since I started about two and half years ago, we even need a bigger rehearsal room now. So there were quite a few Commoners for Boff to juggle and manoeuvre into learning the song. And what a song. Nine minutes of complex, multi-layered parts within parts, verses for different voices and different choirs, and some rousing bugger-alls thrown in for good measure. We even had to shift our normally well-entrenched standing positions around to get the group into the right shape for the harmonies. The words 'Bohemian Rhapsody' weren't far from peoples' lips. It was a work-out simply getting through it all. At first we were a bit ropey, confused, lost. Which bit belonged to which part, to which choir, do we sing now too or is it just them? We heard rumours that the other two choirs were immediately brilliant, tuneful, understanding, in time. We were a bit daunted. Then, beautifully, it all started to come together. We slowed down, we knew the words, we got the parts, we let rip. And it was a joyous thing.
On the day, a glorious Saturday in mid-June, we set out from Leeds giddy with anticipation. We'd spent hours, weeks, singing the song, often at the expense of all others. We had to know it and we had to slot in with the other choirs. There would be no hiding, our voices would be obvious, and we needed to be spot-on. We sang along with the demo on endless repeat in our cars, on our runs, on our bikes, in the supermarket, at work; knowing that we had to all fit in effortlessly when we eventually got together in Newcastle. And today was that day. No more rehearsing, this was it. Singing for real all over Newcastle then a big sing at the Sage Gateshead at teatime.
As Boff welcomed us all in the big rehearsal room, there was an expectant, animated mood amongst the choristers. Each choir introduced itself to the others by each singing a song that showed who we are. Infant Hercules, already with pints in hand, blasted out their bass richness; She Choir sang like angels gathering to herald a new world peace, and Commoners, perhaps more rustically, told everyone to get off their arses. We giggled nervously as Boff rearranged us all into our correct positions. What would the first run-through be like? Would it be a discordant, cacophonous din or would we be ok? Would we all be able to see Boff conducting, or would we run off at our own speeds, end up singing in rounds? Would we bungle the words? We needn't have worried. With a only a few small mistakes, we pretty much nailed it from the outset. The sound of so many voices, with the range extended high and low by the new choirs, was amazing. There were goosebumps, tears and a great cheer at the end. It was fabulous. The joy and excitement in the room was palpable. 120 people coming together to make a beautiful noise, it was so uplifting. The volunteers were cheering, GETNorth staff wiping their eyes, choristers buzzing. This was going to be a great day.
After an initial sing together on the green at the university, the choirs split up, each taking one of the trails through the city, and each trail highlighting different aspect of its history. Ably assisted by GETNorth volunteers, we were safely herded across Newcastle and round to the open-air Sage stage for the final sing three hours later. Infant Hercules took a tour of the pubs they passed too (just to be sociable).
The Commoners took the Design Trail, singing in the Biscuit Factory art gallery, deftly managing to make a couple of audience members cry as we sang our song celebrating the history and culture of this place we call 'North'. We sang outside the refurbished, swish offices of the Toffee Factory, not quite managing to get people out of the pub across the river to come and listen to us (so instead we headed over and sang for them. Take the mountain to Mohammad and all that). All along the route were gardens and allotments, spectacular buildings, often repurposed for modern use into housing, galleries and museums, human spaces now rather than industrial ones, educational areas, and beautiful art installations dotted about along the way, showing huge creativity and pride in the city. We circled round up onto the Tyne quayside, our collective eye fixed on our final destination. Singing, walking, chatting, in glorious weather; what more does the human spirit need?
As we strolled up the many steps to the Sage, we realised this was the finale, the last time we would sing this remarkable song all together. There was a sadness to that, even though it would be the best rendition of the day, as we were all well-versed by now. That is if we could get past the strange peculiarities of our brains, which earlier knew the lyrics completely, but now chose to substitute random words instead. So we had laughter and weather shaping the way were are, renegade teashops in the city square, and a thousand blithering idiots, who gave us… Hints of other tunes would send us into Simon and Garfunkel or even Half Man Half Biscuit songs. But of course we'd pull it together for the last big sing. If only Infant Hercules would get out of the pub and come to join us.
I remember once being told by a friend that they felt English, were proud to be English. Not in a far-right, nationalist kind of way, but more about being proud of their roots, feeling belonging. I pondered this a while, and decided I didn't feel that. I didn't feel English. I felt Northern. I felt I had more in common and in kinship with the Scots, the Danes and the Icelanders than with some southerners I knew. I didn't think my country was proud of me, of my neighbours, or of things that my northern ancestors had achieved; in fact they actively tried to ignore us, or placate us, or just wish we'd go away or something, just keep paying the taxes. Even the amount of money the government donated towards this fabulous event – £5 million – was paltry, the price of a nice house in Notting Hill. So this song I was singing for the Great Exhibition was spot on for me, felt so right, so powerful and said everything I couldn't in one easy bite-sized, beautiful way.
It turns out the Sage wasn't the last time we'd sing together. Outside a tiny pub afterwards, before the buses came to take us all back to reality, a relaxed and happy choir sang one final time, for joy, for comradeship, for the bar staff and because we couldn't help it. The song was in our bones now, in our beings, and would stay with us forever. Inescapable. Just like our Northernness.

Sally Harrop, July 2018
T r u e N o r t h
an earlier report – Trail-Blazing After The Event
June 2018
There's a thing that writers get told – 'Never use the word indescribable'.
It's a good word though, sometimes. When a story can't be told in terms of what it looked like or felt like or sounded like, when a story is all those things as well as a mixed bag of spirit and emotion and whatever other ingredients get chucked into the soup.
So I was part of a six-month long project that grew from an idea (three choirs, singing about the North) to a mad series of performances, and that culmination of all this gathering of choirs and Northernness – at the Gateshead Sage on a glorious Saturday afternoon – was as close to indescribable as I can get. It basically felt like getting all my senses battered at once, a big emotional tug at all the bits of me that can feel stuff. Will that do as a description? Senses battered, emotional tug? There, it's not indescribable then.
Six months ago Josh Sutton, Jane Morland and me were convincing the organisers of The Great Exhibition of the North that this unholy alliance of three city choirs would be big, grand and special. We didn't have any music and we didn't yet have the consent of the choirs; we were winging it with bravado and hope. I'd done this kind of thing before with Dan Bye and Sarah Punshon, singing with scratch choirs at Manchester Museum and outside Somerset House in London. This one was a bit closer to my heart, since it was loaded with big emotional triggers – singing about the North and what it meant without ending up with something cloying and cliched, an answer to years of 'Northern Powerhouse' lies and centuries of discrimination and inequality. My own personal dig at Thatcher's legacy (as Elvis Costello put it, 'tramping the dirt down'). A chance to sing about childhood and history and landscape.
Until eventually 120 of us stood facing the city, watched over by the huge glass armadillo of The Sage, three choirs who sound utterly unlike each other, united to make a single glorious noise. A big and beautiful and bellowed noise that roared and soared across the Tyne. It worked because we all meant it. Because we dearly wanted to celebrate what defined us, what makes the North. What makes us Northerners. (Isn't that so often an excuse for parochial in-bred nonsense? I remember the Tour de France coming to Yorkshire and the place being plastered with posters showing cloth-capped cyclists exclaiming 'Ee Bah Gum'. Aye lad, we're reyt good at stereotyping ourselves, tha knows). But Northernness, and trying to understand it, is essential, since this country's political and cultural divide is getting worse. In terms of regional economic division, Britain now boasts the second largest north/south divide in Europe, witha 25% income gap between the richest and poorest regions of Britain.
The comical fabrication of the 'Northern Powerhouse' has itself become a source of division – as if we're caricatures in an old edition of The Beano , doffing our flat caps to Lord Snooty and his Pals. So bring on Dennis the Menace, Minnie the Minx and the rest of 'em, singing at the tops of their voices around the Newcastle city streets, walking the arts trails that thread down towards the Tyne and across the bridge to Gateshead. Manchester's She Choir arrived at the river after singing in the gothic gorgeousness of St Nicholas Cathedral, Stockton's Infant Hercules turned up after drowning out the tannoy at the train station (and singing to a bemused local MP) and Commoners Choir arrived after a sing-song in a biscuit factory that had been turned into an art gallery. We gave out leaflets and badges, carried our flags, and left our big noisy footprints along the way.
The three choirs had met each other for the first time only a few hours earlier, up at Northern Stage, piling off our charabancs and looking for all the world like we were all on day-trips to the seaside. Up at The Sage, this amalgamation of three disparate choirs fitted together like a wonky jigsaw, full of the sound and joy and fury of a gang on a mission to sing down the powers-that-be and sing up the ordinary folk. The song 'True North', pieced together from hundreds of scraps of ideas that all three choirs' members threw into the mix, is an homage to those ordinary folk whose lives tell the history of the North, who are part of its story (and our story, too).
The song is also an anthem for the Northern countryside, its hills and valleys, limestone and grit. The nature that surrounds and defines us. Each choir sang its own part of the song, backed by the rest, sharing around our differences and working out where the similarities are. And the sheer size of the noise up there above the river – I don't mean noise that's measured in decibels, but noise that spans octaves and dynamics, from She Choir's glorious soprano fanfares to Infant Hercules' bass boom – was so much more than the sum of its parts. Not indescribable, but possibly incomparable.
Maybe that's just me, though, standing in front of the choirs waving my arms about and trying to stop thinking of the 8-minute piece as a mathematical puzzle, trying to stop concentrating on what comes next and who sings what and where does the bass come in, trying to stop thinking for a few moments so I can experience the moment. Let go. Listen. Feel it.
Our involvement in the Great Exhibition of the North began in earnest several months ago at the launch event when we discovered that a major partner and sponsor would be BAE Systems. I won't re-hash the story here. We pulled out, spent a week feeling cheated out of a project we'd been really looking forward to, and then jumped back in again when BAE gave in to the pressure and ran away, red-faced. The commissioners and organisers who helped set up our project were wonderful and supportive throughout, even when we were being righteously bolshy and awkward. And the dozens of volunteers on the day who chaperoned the three choirs around Newcastle were just brilliant. The final, long, held note that finished 'True North' on the tiered outside stage overlooking the city was a big, loud cry of all sorts of describable emotions: relief, joy, celebration, togetherness and fun.
And when it was all over, and we'd waited around to cart mic stands back to the bus and joked with the BBC2 camera crew that our next project would be "a similar idea, but about the South" (I had to explain I was joking), after we'd said our goodbyes to the volunteers and organisers, we headed off to the nearest pub. Most of the three choirs were already there, sitting outside in the courtyard of The Central, a tiny old one-room bar beside a busy dual carriageway. And there, with ten minutes to go before we all had to pile back to our buses and head off home, we chucked out one last, big rendition of 'True North', this time as a skywards holler, glasses raised, everyone smiling. And OK, I'll admit – that last version, all of us thrown together and singing not for an audience but for the joy of sharing something special with each other – that was simply indescribable.
Boff Whalley June 2018
Thanks Sara Barnard for the photograph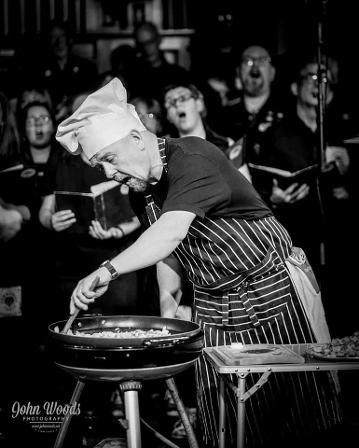 The Hangry Brigade
A Blog about the 'more than a mouthful' shows by Allan Clifford
Food. Commoners Choir rose one day and turned its hundred voices and fist-waving black 'n' patches centipede of arms and legs … turned itself to thoughts of food. The good stuff.
Turned its thoughts and turned its actions to food. The action seems clear and necessary; gather, make, bake, create, sing, scoff and share. And know of the rebellion well-stewed into those actions.
Manifesto! We set the work of heads and hands, spoons and pens to the 'More Than A Mouthful' quartet of concerts based around food. Holbeck, New Wortley, Otley and Seacroft mapped out our Leeds compass. The city on a plate.
Our enthusiasm meant that the incredible people at Leeds Inspiredbelieved in us enough to put money down to fund the idea.
The plan came together: at each venue, Commoners' resident chef Josh Sutton (Tommy Cooper two-hat fez 'n' cook combo) would crouch like a sweaty DJ mixin' up a banging in-your-face curry for the masses. Whilst we'd sway and holler behind him – trying not to sniff and dribble.
Josh's raw materials? A mountain! Around half of all the food the world produces is thrown away. Binned. Un-tucked-into. So these concerts would mean that a small hill of nourishment would be rescued by using ingrediants from the Real Junk Food Project. So the Black Fez would cook, and the Choir would sing.
It would be primary barter economics. As people came they would swing by Sainsbury's and get some proper scran to give to a local food bank (that was the entrance fee – a donation of your choice to the local foodbank) and after the show they'd scoop up the good victuals we'd share and some hot tea and cakestuff. There for anyone at all who'd smelt the onion frying, heard the four-part harmony bellowing and climbed in the window waving a can of beans.
Well that was the action – but the thoughts! For food produces farts, belches and politics. The food-thoughts whirl and spin, they overlap and spark off each other then collide and connect into a huge brainmelt around this basic biological function. The Politics of Food. George Orwell walks with us and nails a truth that a human being is "primarily a bag for putting food into". Food is the basic the thing, the next on the list the moment we've sorted out breathing and before we've had a shit.
Food is the ultimate commodity. The commodity we work for of necessity. We shop, acquire and consume food of necessity. And I, like every human being; like all of us, like all of you, deep in my twirly gene-ribbons, there's my hunter-gatherer belly rumbler, and I covet that food. I need to acquire, to horde and then to munch and masticate through well over 58 varieties … 'til the day I die, hopefully with some food still in my tum. After a big foodshop I feel guilty but happily satisfied as I open the fridge door and gaze at the wonderment piled up there. Deep down, my Cro-Mag brain-stem salivates amazed … so much fodder. I try not to waste any.
And so to politics! The outrage of under-consumption. The miserable mathematics of food poverty, in Leeds in 2018. In January 2018 it emerged that 1 in 4 parents has missed a meal to feed their children. 20% of the Leeds population in 2015/16 was living in absolute poverty. 155,000 people. 26,831 Leeds people have accessed a foodbank in 2016/17 – a 7% increase on 2015/16. In five wards in Leeds around half or more of children are growing up in poverty. Hyde Park and Woodhouse, Gipton and Harehills, City and Hunslet, Burmantofts, Richmond Hill, Headingley.
This is the lamentable language of food poverty – in our streets, down our roads, today. Food poverty, food insecurity, food banks, soup kitchens, hidden hunger, holiday hunger, elderly malnourishment, obesity epidemics, eating disorders, food inequality.
I talked to a couple of middle-aged people in Holbeck. We were standing out in the sun with a beer after our show. We considered the normalisation of food banks. Someone said that he was of an age where the phrase 'soup kitchen' just automatically conjured up black and white Great Depression photos from his school history lessons, he had this distant reaction to what was happening to our towns today, distant despite knowing and seeing and understanding … he said it was difficult to conceive of food banks in every town, in every city, feeding tens of thousands weekly … the sheer scale of the enterprise the community was undertaking because the state had simply walked away from any obligation to the needy … had walked away taking our money with it.
Yet there he was, popping four tins of soup into a big wire basket by the Tesco checkout every week when he did his family shop – now just a thoughtless part of the routine. Normalised and hidden because we're so damned adaptable, we take it in our stride and forget that it's obscene.
The 'unreality' of food poverty is encouraged by wealthier people in positions of power. To sow confusion, to stereotype, to obfuscate, to muddy reality. Posho journos like Toby Young and Camila Long – the shoeshine boys of the bourgeoisie. When 'I, Daniel Blake' was released Young and Long both questioned the reality of the events in Ken Loach's meticulously researched portrayal of foodbank Britain. They want us to think it isn't really there – that the things we can actually see aren't actually real because Camila and Toby can't see them when they drive through the West End in a taxi.
In New Wortley Community Centre some local people – old and young – had their own choir and they joined us to sing 'Citizen's Shanty'. After some clapping and whooping from the audience, one girl grinned so much and looked so chuffed I swear I thought the top half of her head would fall off. She glued it back together with cake.
The guy there making tea in the kitchen said there were people who simply wouldn't cope without the centre, that it was a real community enterprise because there was nothing else. I remembered reading something about how the criminal austerity the EU imposed on the Greek people resulted in people forging close community networks at the basic level of keeping each other alive – and then realising they'd done something rather beautiful together. Hope in the dark times.
I spoke to a cheery chatty woman in a wheelchair who told me the choir was too negative and we should take the long-term view that lives had, on the whole, got a lot better over the last 100 years. She tried to get me to join a jazz choir!
Later I spoke to one of the other local choir girls.
Piece of cake number one.
Q - 'What kind of songs do you sing in your choir?'
A – 'Lots of David Bowie' (spraying cake crumbs)
(Me thinking - 'damn that sounds like a good choir to be in.')
Piece of cake number two.
Q – 'Do you want a Commoners Choir badge?'
A – 'No.'
Piece of cake number three.
'I've got to go home 'cause me mam's made me tea.'
Otley, Saturday. I spoke to a young woman who had just returned from travelling around India. She marvelled with joy at the memory, at the generosity of poor people who will not let a stranger pass by without insisting that food is shared, and new friendships sealed – hands clasped over plates. Again, and again, she was taken into people's houses and food was shared. She said such generosity made her feel bad at times because some days it was a challenge to spend any money. But to take money would have been to insult the gesture. My conversations were stitching something together – food and community.
We were in Seacroft for the last show. We have a new song called Come On In From The Cold which tells the story of a local school during March's 'Beast from the East' snow days – the school, and our city, were iced thick and shut down. Cosy for the cosy who've cranked up the heating and raided the biscuit tin but very difficult for the poor kids shivering in front of the TV. At one Seacroft school the teachers, the site staff and the dinner ladies and dinner laddies, those that could, came in and threw open the doors (metaphorically, due to the snow) and cooked up a meal for whatever local kids needed to come and eat. They de-commodified the commodity and gave it away because it was needed. They supercharged their community and asked nothing because that was needed.
This huge little event inspired the More Than A Mouthful shows. I was having a mull on this just before we started the song 'Come On In From The Cold' in front of a packed crowd on a sunny spring day at Chapel FM, which sits in an old church hall where Seacroft stands up high and regards the slate and trees of the Leeds-scape. The song started without me... I felt a bit choked. Maybe the song sounded better without me.
I spoke to two beaming students who said they lived around Seacroft because it was really cheap. They loved the show, cheered them up no end, they said, but it turned out the curry had run out and they didn't get any … but they might come along on a Monday evening and join the choir anyway.
Commoners Choir did its four shows. Cooked a pile of chickpea and potato curry. Sang songs about Orwell and doorways, school dinners and Ely riots, Robin Hood and hope, ministers and citizens, libraries and boats.
I tried to talk to people about serious politics and being Very Angry with the Government – but no-one really wanted to get all Marx & Engels once the melodies faded away and the plates and mugs came out. Each show ended in an ecstatic buzz of people chatting and chewing. A babble of bites. Four fleeting communities assembled around a big pot of curry and a lot of tea. Something warm to take away.
There's a lovely, slightly old-hat word, that longhaired European street activists used to use in '70s as an umbrella term to encompass all the possible theatre of political protest, they'd call any such events 'manifestations'. Always loved that. Manifestations is what the Commoners do.
The Leeds Poverty Truth Commission project has adopted the slogan of disability activists and asserted that the poor must be the active participants in their own improvement– "Nothing about us, is for us, without us." Under the Tories, the state has walked away from its obligations to the poor – which is an ongoing horror and tragedy for thousands but when people reorganise and push back … and they are, and they will … they'll do it better than before because they'll have learned to do it together. And that's, basically, what we were trying to say over those four manifestations, a few sings and a curry. Hanger is an energy...
Thanks to all four venues who hosted 'More Than A Mouthful' (Holbeck Hub, New Wortley Community Centre, Otley Parish Church and Chapel FM), and thanks again to Leeds Inspired for helping to make it happen.



postscript: An Introduction to our song 'George Orwell Joins The Commoners On The Road To Wigan Pier'
George Orwell is one of our great radical writers.
George Orwell is also really quite a posh bloke.
In The Road to Wigan Pier he, with some humour and accuracy described himself as "lower upper middle class"
TRTWP is a report of his journey into the poverty of working class communities in Lancashire and Yorkshire in the '30s.
TRTWP is painfully clear and brilliant as it describes the squalid housing, the struggle on the dole, the labour of a miner– and especially painfully honest as he confronts his own class prejudice.
And he writes about food, the struggle for food, the impossibility of feeding a family for a week on a few pounds.
Orwell writes a lot about food often with disgust and horror
In Coming Up for Air he delights in detailing biting into a frankfurter the explodes like hot fishy rubber in the mouth.
In Down and Out in Paris and London he happily describes waiters fingering a steak before it is served.
In TRTWP his uses his grim snobbish humour to nail a truth that a human being is "primarily a bag for putting food in to"
But Orwell also frequently writes about food with great feeling and joy. In a short essay in 1945 he describes great British food:
Kippers, Yorkshire puddings, bread pudding, stilton, marmalade, many many biscuits, cottage loaves, apple dumplings and something called a saffron bun …
In a lovely line he says of British food that it is "simple, rather heavy, slightly barbarous"
In TRTWP Orwell (who's a bit posh) isn't condescending or mawkish about poverty and hunger …
He's really honest, and really really angry and he wants change.
And his writing became part of the change that happened after 1945.
This is a song about the fury and the hope of George Orwell who should now speak only for a shocking past but still speaks for a shocking British present and so the Commoners walk with Orwell …
Thanks to John Woods for the photographs

Sources - Leeds Council Poverty fact Book – March 2018
https://www.leeds.gov.uk/docs/Poverty%20Fact%20Book.pdf
End Child Poverty Coalition
https://www.leeds-live.co.uk/news/leeds-news/revealed-shocking-levels-child-poverty-14211443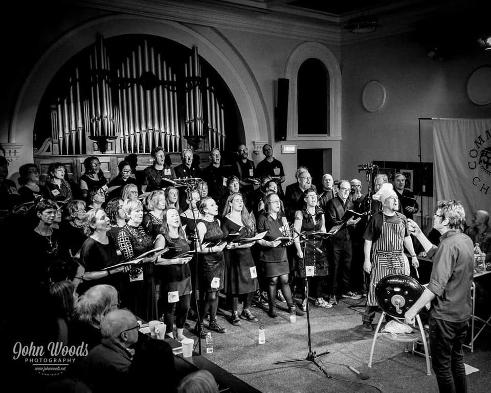 Here's an article reprinted from The Guardian and written by Commoners Choir member Allan Clifford:
A MOMENT THAT CHANGED ME: JOINING A RADICAL CHOIR
On a boozy summer evening two years ago, a friend told me about a choir she'd recently joined run by a bloke called Boff who was a guitarist in Chumbawamba.
The idea behind the Commoners Choir, she said, was a radical choir melding political singing with political activism: "You should come along. They're looking for more people and I'm sure you'd love it."
I didn't feel particularly inspired, more cornered. I had just turned 50 and my punk-political activism youth was far behind me. Instead, I'd settled down to a life of grousing and daydreaming. The exhausting graft of life as a teacher and parenting stroppy teenagers seemed to be the expected measure of my days.
But this brief conversation with Helen lodged in the back of my mind amid the evening's sea of beer, cheese and chat. I decided to try it. I got increasingly anxious as I contacted Boff and arranged to turn up for one of the weekly practices. The thought of singing in public with a bunch of people that I didn't know filled me with dread.
When I walked into the small room at the local university, I was handed a badge and a song sheet and pointed towards the kettle and teabags. I immediately felt welcomed, and became at once, without hesitation or question from anyone, a Commoner.
We stood in a semicircle and went through the six or seven songs written by Boff. This choir didn't do standards or covers, the original songs are a critical take on contemporary events from a radical perspective. The idea is to keep you humming all day as they snuggle into the brain, hopefully taking our progressive message with them. A singing revolutionary tabloid.
I sang fairly quietly that first time. We got to a new song called Three Boats, which riffs on the tune of a Christmas carol, with lyrics highlighting the human experiences of the Mediterranean migration tragedy. In the background, half of us sang the numbers of the dead in Arabic, Swahili and English. I found myself choking up.
Two years on, I'm still singing. We sing angry songs and hopeful songs. We've toured northern libraries. We serenaded Christmas shoppers to reclaim the once public space that is now Trinity Leeds shopping centre. We went up to Ilkley moor to defiantly recall the real spirit of citizens' rights and the Magna Carta. We went to Ely to sing in memory of food rioters hanged in 1816. We dressed as monks and went to Kirkstall Abbey to sing a song about Boris Johnson. We serenaded commuters on their way home the day after the election.
Being in the choir has perhaps not so much changed me as confirmed me. Many of us have an idealised version of what we'd like to be and what we want to do. But to get there involves shaking ourselves out of our comfort zone. I didn't imagine finding myself in my early 50s recording an album.
Singing in this choir has made me much happier. Life for ordinary working people at the moment is tough. Like many jobs, teaching is an often thankless task that can easily take over your life. I reckon I'd probably be happier if I'd joined a cycling club or sorted out the garden. However, the Commoners choir is a shared experience with other ordinary folk that helps me realise my isolated experiences are common. My newfound sense of joy comes from the way that we have a clear sense of Britain's radical history and our proud place within that.
We sing for the homeless, the closed-down factories, immigrants, the printed word, past struggles and, most importantly, we sing for hope. I have met an incredible group who inspire each other to get out of the house and do something. I'm still not the best or bravest singer, but I assume my position with the basses at the back and endeavour to give it my best bellow.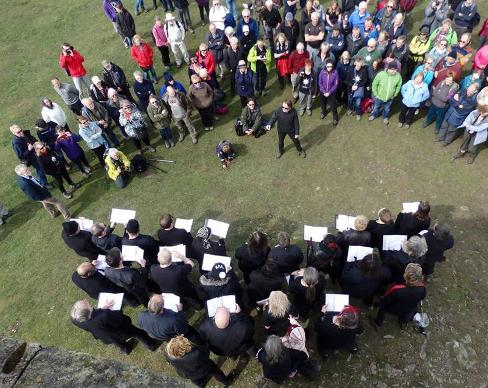 that was the year that was... 2017
various Members of Commoners Choir write about the events of the past 12 months
Commoners Choir has had an amazing year: gigs and walks in places conventional and unexpected, our first CD released, a huge influx of members, a new protest song online every month, a fair bit of protesting in the streets, a lot of laughter, occasionally a lot of beer and always plenty of cake.
We're a talkative and awkward bunch: when Boff suggested that one of us might like to write something about 2017, eight of us did and each of us has written quite a lot… So here goes, the Commoners' year, in eight chapters:
January: a first gig for a new member – Alison
I started singing with the choir almost exactly a year ago and the event at Armley Mills Industrial Museum was my first time singing in public. I was slightly terrified.
For the gig, we were singing amongst the machinery in the Museum and fortunately the acoustic was reassuringly lovely so that fear faded quickly. I only made one mistake that I remember, (though it was a loud and obvious one so caused me more than a little embarrassment), and the choir as a whole had to start two songs again. This was appreciated by the audience in a similar way to seeing comedians corpsing and feeling you've got something no-one else is going to see.
Afterwards it made me think about the unlikely magic that happens when a large group of people do manage to all come in on the right notes together. It made me aware of the level of trust implicit in communal singing: everyone has to lean on everyone else just a little, and I've happily spent a year's worth of Monday nights (plus quite a few weekends) immersed in that magic.
March to May: Commoners Library Tour – Ellie
The 1964 Public Libraries Act states that local authorities have a statutory duty to "provide a comprehensive and efficient library service for all persons". However, since 2010 the austerity agenda has seen 600 libraries close or move to being volunteer-run and ten thousand library workers lose their jobs. It doesn't seem sustainable, comprehensive or efficient to be relying on the goodwill of volunteers to provide a service. For many the library is access to books, a sense of community and also the internet; in a society where we have moved the whole benefits system online this access is vital for many.

Because Commoners love the Commons, and love libraries, in April we piled onto a tour bus with a stack of cryptic crosswords and set off on a five-date jaunt to sing in libraries across the North of England. To some this breaking of the "silence" in libraries may be heretical. I work in a library, and I don't think libraries should be quiet, I'm with Paula Poundstone who says that "libraries are raucous clubhouses of free speech, controversy and community". I hope we helped libraries live up to that.

We sang in Sheffield, Keighley, Darlington, Carlisle and Doncaster. Each town had a different tale of cuts to library services. In Keighley we heard of 14 libraries closing in the 2016/17 budget with a further £950k of cuts announced in November 2017.

We offered cakes and a cuppa and 45 minutes of singing and ranting and sharing our love for libraries, the printed word and the hope of a fairer society to come. Oh and a free CD of our song Mechanical Movable Type … there's a video about the library tour here: https://www.youtube.com/watch?v=D6h4KsdM2ek.
February to November: Singing outdoors – Catherine
For me, one of the most joyous things about Commoners Choir is when we sing outdoors, surrounded by wildlife, people, dogs and glorious scenery – or by thousands of other people who are angry and energised about the same things as we are. I love the way that we keep on trying to make sure that everyone, whatever their situation, gets the chance to sing in the open air.

MAY – Singing to a small group of outdoor swimmers in Sparth Reservoir. "When your heart says yes and the sign says no" has never seemed more pertinent than when we sang it to this fantastic group who resisted an attempted ban on swimming in a spot that had been used for generations. We hadn't planned it – we were walking along the canal from Marsden, where we'd had a lot of fun singing in different spots around the town for their Cuckoo Festival, to Milnsbridge, where we sang at the wonderful Red and Green Club. But we just came across the swimmers en route and we had to serenade them. It's hard to stop a Commoner when an appropriate opportunity comes up.

FEBRUARY, JUNE and SEPTEMBER – in Leeds and in Manchester, protesting. Sometimes with hundreds or even thousands of other people, sometimes just us. Singing to show solidarity, singing to show anger, singing to share hope. Singing because we believe that we don't need to accept a world in which the rich get richer and the poor get poorer and women and people of colour and gay people and disabled people and everyone who just doesn't fit can be pushed to one side… It's brilliant to see people in the crowd smiling in recognition, laughing, singing along – and it's also great when there's someone who gets really indignant. If what we said never got any disagreement, we'd be doing something wrong!

NOVEMBER – Teetering on the edge of Kinder Scout, almost numb with cold but still grinning, watching Boff's hands waving about in absurd yellow gloves and pretending not to see the hovering drone above us as we launch into the fourth repetition of a song that celebrates the 1932 Mass Trespass, being filmed for a "Britain's Greatest Walks" TV programme.

It was brilliant – the fact that we were all ready to be out there early on a cold Sunday morning; the cheeriness and enthusiasm of the TV crew; the fact that lots of Commoners had carried cake up the hillside to share; the way that lots of us piled on across Kinder Scout and beyond after the filming and made it to the pub at the end of the day red-cheeked and still laughing. The combination of fresh air, incomparable hills, angry and articulate politics and lots of laughter can't be beat.
february, recording the album – jane
One large room, Ebor Court, two windows
One gentle sound engineer, one desk, one chair, limitless patience
One hearty warmup full of ooohs and aaahs and brrrs
Three impromptu songs
Four microphones
Four parts
Fifty eight choir members
One photographer
Twenty-one amazing songs
Two hundred and thirty two cups of tea (at least)
Three or more attempts at each song
Two cold Sundays
One roomful of kindred spirits
One pair of red socks as worn by Boff
One tree, Kett's Oak
One bucketful of hope
One unbelievable album
One Choir on an adventure
September: Commoners Choir CD Launch – Mark
We have a great album. So good that a complete stranger said 'that sounds good' whilst I was blasting a prerelease copy in my car, windows down, arm resting on the door. So how do we make a bit of a fuss about it?

Josh was the ideas man for this particular caper. Boff knew a man who had a good gaff for holing up in. We worked on a getaway route that initially took us to a mill involved in the Luddite rebellion, until we realised that it had become a soulless executive housing estate. We needed a gang of accomplices to pull this blag off.

Pretty much instantly on board was the superb Rob Cowen, writer of the book Common Ground, and the first voice to be heard on our album. Next, Nick Harper was going to play up a storm for us. Last on board was the lovely Ursula Holden Gill, actor and storyteller supreme. All of this and a choir too. We had ourselves a plan.

We also had the brilliant Turner Prize-nominated printer Helen Peyton, a regular co-conspirator of ours, and the Real Junk Food Project; Leeds legends who, like culinary Wombles, take the stuff that everyday folk leave behind and turn it into a delicious buffet. And then there was the delightful Alaric Neville, who brewed us a batch of Commoners beer, based upon a Victorian recipe he had found in his work with Phipps Brewery. All the ingredients were there for a grand day out.

Our venue? The lovely Sunnybank Mills in Farsley. Steeped in history and still the beating heart of its community.

The day came, the bunting went up, the library tour posters were hung, the room organised. We just needed an audience. Would they come? Indeed they did. We took a good 50 or 60 people off on a ramble through the Farsley countryside. When we had scoped out the walk, two of us managed to negotiate the Leeds outer ring road without any real issue. Getting 60 people across the ring road was something more of a challenge!

Back to the Mill for the main event. We weren't sure how many people would come, but we needn't have worried. The room filled and we were away. Rob Cowen read with passion and verve and made me want to read his book all over again. Ursula Holden Gill kept the audience spellbound with stories from her Fairies in the Gutter collection. Nick Harper fired us up with his political songs. Helen printed souvenirs cards and posters. Everyone who wanted fare was well fed and watered. And did Commoners Choir sing? We surely did. Loud, proud and unbowed.
September: Wigtown Book Festival – Allan
At the end of September the mists parted briefly above a dreich but rain-shiney Wigtown, Scotland's own book-town, revealing two vans chugging along the Galloway coast ready to disgorge the slimmed-down version of twenty-six Commoners insane with coffee, crosswords and travel cramp and ready to take on Scotland's leading literary festival.

In a mad wet 24 hours we turned a green garden to festival-goo with our tents, slapped the back of Paul Lavery – genius screenwriter of 'I, Daniel Blake'– went to the pub, sang a grand set to a grand audience in a grand big tent, cheered Phil as he nearly won the talent competition, went back to the pub, forgot to eat, got drunk, met lots of people who do all sorts of creative and uncreative things, drunk a bit more and then had a go at singing down the very walls of the Craft public house in a cheery anarchic sound-clash which we probably lost to a guy harbouring a historian's knowledge of local folk songs. There was a rumour that someone actually went a to a book-shop at some point but I couldn't say. Much later I stumped back to my billet in the night-ink of country dark, head ringing for reasons both musical and distilled.

The drive home next day was long and quiet. By the right side of Skipton news emerged that the other mini-bus had finished the day's crossword way ahead of our jaded effort. As we threw some bodies out in Otley an anxious query came from behind a steaming pile of tent at the back of the bus "Well? What's next?". Plenty's next...
October – two gigs in one day – Mark
We launched the album successfully, but what next? Where would we steer our ship? We

needed a launch tour! Ideas came in thick and fast: We would cover as much territory as we

could. Scotland, Manchester, Ilkley, Hartlepool and Stockton, and culminating in a gig at the

legendary Hebden Bridge Trades Club.

Hartlepool: the one thing everyone knows about Hartlepool is the story about the French

spy, washed up on the shore and hanged for being a monkey…. or something like that. We were off to find that corner of the North East that was Hartlepool Maritime Museum, to

sing on a ship.

First up was a workshop on board an old Humber ferry. Dave Hep had recollections of

seeing this ship on the Humber as a child, long before a bridge spanned the tidal waters.

We sang, and they came. They sounded magnificent, and we did okay too. The ladies

behind the tea-bar counter joined in too.

No time for sightseeing. We disembarked and walked through the authentic

Napoleonic Wars era dockyard to our next venue, where we were doing a double header gig with the amazing Grace Petrie.

The room filled, and we did our stuff with gusto to much appreciation and applause. Grace

followed us and surfed the wave we had created. A superb performer. Time for a quick look

around the sailing ship HMS Triconmalee, where Josh and myself couldn't resist splicing the

mainbrace with a contraband bottle of spiced rum.

Then we were off a few miles inland to Stockton, to do our stuff as part of a Bob Dylan

tribute night with a series of homegrown acts at a packed-out Arc arts centre.

The band included the brilliant Dan Donnelly (last seen six-string wrangling for the Wonderstuff). There was also a burly bunch of ex-steelworkers who went under the name of Infant Hercules; more a force of nature than a choir. They said they were intimidated by us. They had surely got it the wrong way round! They were a lovely, warm bunch of blokes who were enthusiastic about what we did. It won't be the last time we work with them.

We were put in the bowels of the labyrinthine arts centre to warm up and wait. Stockton was reputedly a UKIP stronghold. Bandit country for a choir who sings about welcoming

asylum seekers, and just down the road from where they hanged a monkey for daring to

come over here and eat our bananas … we needn't have worried. We went down a storm apart, that is, from one man in the front row shaking his head throughout.

Mr Zimmerman was duly celebrated.

Quite a day.
November: Kinder Scout – Liz
It's November and Commoners Choir are reprising their first gig, a walk over Kinder Scout in the Peak District, to celebrate the 1932 Mass Trespass. This was the most famous of several protest walks campaigning for public access to huge areas of moor and mountain, hitherto reserved for the landowning gentry and their grouse shooting chums.

I was on that first walk. The choir then was a fledgling thing, with a repertoire of two songs. And a flag. It was a marvellous day nonetheless, a beautiful day in early spring. A day of sunshine and high cloud, and a wonderful feeling that something good was beginning. A bunch of people preparing to 'work like they were living in the early days of a better nation' to quote Oysterband.

November's walk is a different creature altogether. The choir has grown, becoming widely known across the folk scene of the North. It has a successful and well-reviewed album under its belt. This has been a busy year, of television appearances, recordings, and gigs coming thick and fast.

The purpose today is to participate in a programme, being filmed for ITV, on the most iconic walks in the country. Despite having had to leave the choir for a whole gamut of reasons, I am welcomed back to participate in this walk on my doorstep, and over a mountain that holds a special place in my heart.

Being filmed involves lots of waiting, standing still, being asked to 'go back and come through that stile again, and this time, don't look at the camera.' It is a cold day, mercifully dry but with a blustery wind. But directors, camera men and choristers are equally good humoured and patient, and so we progress along the first section of the Pennine Way, and up the steep staircase of Jacobs Ladder. This is hard-going, and there is some huffing and puffing, but we arrive under the steep bluff of the Swine's Back in good order. The original plan to sing around the trig point on Kinder Low is abandoned, as it is far too windy.

The choir assembles to sing on a steep grassy hillside looking back over Edale. There is some shifting about as folk look for a secure stance, but there is none of the uncertainty of the early days. Nowadays, these people know what they are about. We sing the song several times through as we get the light and sound right, and the piece is filmed from different angles. The song rings out across the fell and it feels as if we are singing to all Derbyshire.

It was a long time to stand still in a November wind at 2000 ft above sea level and I was chilled to the bone. But you know, it was worth it. It felt right, it felt good, and I was thrilled to be singing with the choir that I love again.
November: Hebden Bridge Trades Club – Bob
As the officially second tallest member of the Choir (it's a long story) I tend to see things from the back of the room/venue, which as the choir numbers swell, can be quite dangerous. Our last gig of 2017 was at the wonderful Hebden Trades club. Great place, tiny stage, with a big drop at the back. Now I find it hard to stay still at the best of times so when the swaying starts ("left foot first!") for Citizens Shanty I have to keep my feet firmly on the edge of the stage to prevent an embarrassing fall from grace.

You never know how people will react when you perform live. When we played the Ilkley literature festival last year it was a free event so anyone could turn up, which they did (another full house). Afterwards a young chap (mid 30s?) approached me, so I asked "Did you like that?" – He starred at the floor shaking his head "I don't know if I'll ever get the image of a beheaded Boris Johnson out of my head. I don't think you should sing songs like that" and off he went. Then an older lady (early 70s?) approached and I thought "Here we go…" "I absolutely loved it. Where do you practise and can I join?" "Leeds, Monday nights, of course you can!"

Having been a music fan since I heard my brother play the Stranglers' 'Rattus Norvegicus' at the tender age of 12, it has been a great thrill to be on record myself and made buying everyone's Christmas present so much easier this year. Making a noise. Making friends. Making me think. Making Mondays tolerable. Great fun – what's not to like?
*
2018 …
Singing is for all and singing is better when we all sing. Come Monday evening our Commoners door is always open and the kettle is always on. The most visible and obvious change in the Commoners in 2017 has been the way the tribe increased resembling now a great roiling mob, hoiking up its sleeves, loosening its buttons, spoiling for a sing.
We're bigger and we're louder. Come on in 2018.
• Photo of the Choir at the top of the page is by Will Griffiths, from our appearance on top of a hill at the Buxton Big Session Festival.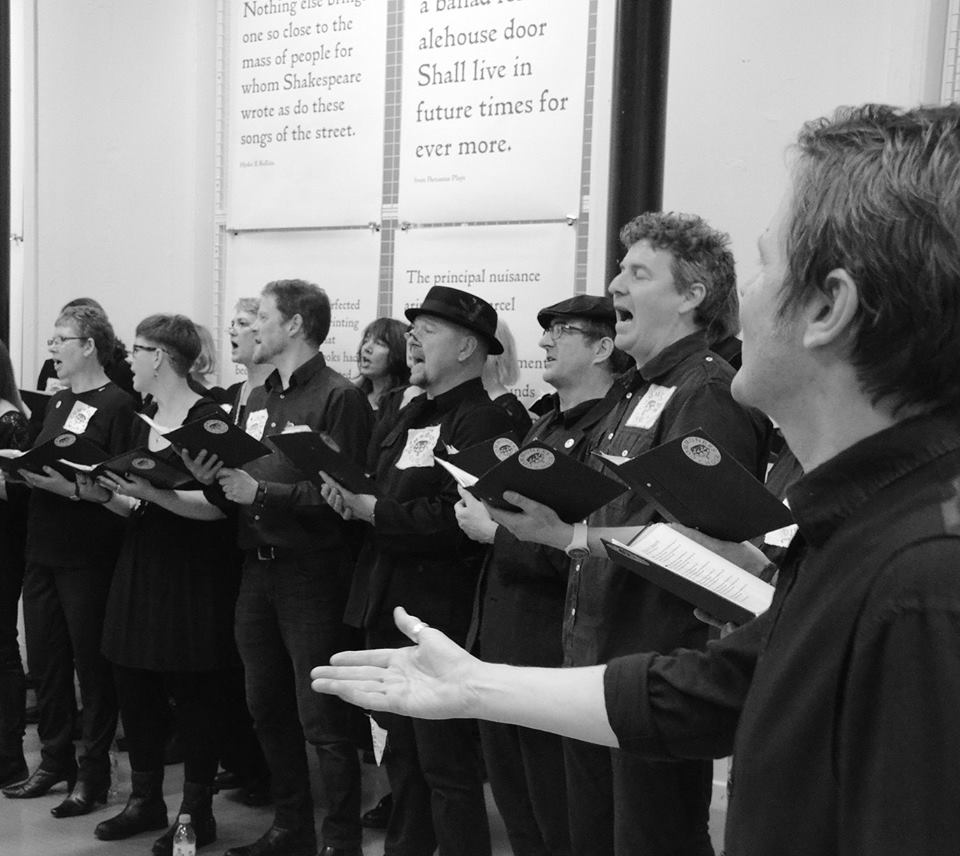 don't shhh!
commoners library tour 2017
I've just started reading two books. I don't usually start two books at the same time, but they both arrived on the same day and I can't decide which I'm more excited about reading. Maybe 'excited' is a bit too Famous Five, but it's true, I get a bit giddy when I have a new book that, after the first couple of pages, feels like it's going to take me on an adventure. A lot of us have that feeling, don't we? My two books are Benjamin Myers' 'The Gallows Pole' – a novel based on the real history of the Cragg Vale Coiners, a slice of the past I'm fascinated by – and wildlife commentator Chris Packham's autobiography 'Fingers In The Sparkle Jar', tracing his life from punk rocker to environmental campaigner. The Myers was a present, the Packham was lent.
I might have said this before (possibly late into the evening, in the kitchen, at a party) but there was a hazy time in my life when I switched from second-hand record shops to second-hand bookshops. I still love flicking through racks of LPs in the hope of finding a mint copy of The Who's 'My Generation' on the Brunswick label (mono, first UK pressing). But the lure of an old copy of The Victor (with an Alf Tupper story I haven't read) or a hardback of Tony Harrison's 'The Loiners' just about wins out. And there's the smell of books, too… and maybe it's also that just about every piece of music ever recorded is instantly available and downloadable somewhere on the internet, whereas books still demand your time and space, force you to make a cup of tea and settle down. And blimey, we all need time and space to settle down nowadays.
April is over and there's a bit more time to read, despite the fact I've started a month-long job in Hull with Dan Bye, writing for and leading a choir. More time because April was mad with Commoners Choir concerts, five of which were events we put on in libraries around the north of England. That's where this preamble is leading, from my excitement at having two new books to read, backwards into a month seemingly surrounded by books. There's something about singing in a library that feels right. Possibly it's to do with the physicality of the paper, the smell and weight of all those pulped trees having the effect of being in a forest clearing. We've sung in six libraries now, and they've all been very different buildings – from imposing Victorian gothic of Sheffield to the stark steel 'n' glass of Carlisle – but the long shelves of books all have the same allure, heavy and tactile, all those words packed tightly in leaves and rows.
The singing echoes that physicality. Without added instruments, there's only the raw, basic nature of the voice, cast into the forest of print; and a tangible, audible, visceral connection happening between the song and the shelf. There's character and energy in the way the books rub against each other on the shelves as you look along them, those that jump out, those that hide, all those masses of ideas and arguments wedged into their hardback covers. All the different voices inviting you into their adventures, all entirely individual but all of a piece, too, a collection of disparate noises that the lovely fussy librarians assemble and order and then present. I say fussy in the best sense of the word: the librarians we met on our tour were full of the passionate fuss that people have when they really, really want to show you something, when they think you just might understand their obsessions.
Chris Packham's book gives me that feeling, already – he goes for walks and engages with nature, loving it so much that he wants to tell us all about it, about what it means, about where the urge came from, about how we might love it, too.
Commoners Choir was set up two years ago for a few reasons – to sing about what's going on around us, to give an outlet to our anger and joy and hope, to have a laugh together, to make something truly original. And we also (because this is the very nature of art) want to share that with people, want to usher an audience in to hear and see our ideas, because we have that passionate fussiness, passion to make something we love and the fussiness to make it work, properly. Books, libraries, choirs, we want nothing less than to put words to use, dress them up and invite you to grab them and use them (and sing along to them, if you fancy it).
On our tour of libraries, we didn't just sing . We took along a printmaker – Helen Peyton – who lugged an ancient cast iron letter-printing-press along with her and hand-printed souvenirs for everyone that showed up to the concerts. It was a delight to watch how much Helen enjoyed showing off her perfectly-set block of metal type, seeing the pride she took in spreading sticky ink across the letters with a wooden-handled roller. At one event, Helen used printing ink containing glitter. We gave away CDs of a song we'd written specially called 'Mechanical Movable Type', an acapella celebration of Johannes Gutenberg's world-changing invention, and the CDs were sleeved in Helen's printed cards. The smell of the ink across the rows and rows of bookshelves was, every time, perfect.
And we hung an exhibition. Last winter I sat in Leeds Central Library surrounded by reference books piled in a minor mountain on a huge desk. Every so often, as I worked my way through the collections of ancient broadside ballads and penny pamphlets, one of the librarians would arrive with another book, wondering if this or that chapter might contain useful ideas. I'd told them I wanted to collect a series of quotes, modern and contemporary, to describe and illuminate the power of print, of the printing press, of how the press gave people power. How cheap print spread information, how songs and ballads turned printed information into oral tale-telling to be passed around and remembered. How public libraries further gave ordinary folk access to a world previously denied them. All this stuff was in my mountain of books pulled from various public and hidden collections, and three days spent wading through them was a nothing short of a privilege (the smell of 'em was enough).
The gathered quotes were printed onto huge sheets of paper and hung, usually on wires and with clips, around the libraries we visited. In places where we sang right amongst the rows of books, the posters hung from the shelves held fast at the top by heavy books, crude and perfect.
And there was tea and cake. Always tea and cake, baked by choir members, a range of smells to match and mingle with the stink of the printing ink. What better way to spend an hour on a weekend afternoon? We sang our songs to uncategorisable audiences. All life was there. Kids on the front row with drawing books and pencils. Grown-ups who cried when we sang about refugees. Teenagers wearing T-shirt slogans, couples singing along, old folk laughing. A Tory supporter leaving in disgust, a bewildered homeless bloke clutching his free tea and cake. People there especially and people there by chance. Folkies and professors and students and families.
It all felt right, felt perfectly fitting. A choir of 35 people doing what choirs do, stretching the gap that hums between the purity and clarity of singing in unison and the huge beauty of singing in harmony. I can't name everyone, obviously, and anyway there were different singers each time. As conductor, I get to stand at the front (as one lad asked a choir member afterwards, "who was that bloke at the front waving his arms out of time with the singing?") and listen to the singing. Not often, to be honest, as I'm too busy trying to remind all the different harmony groups when to sing and when to shut up, or when to song softly and when to bellow and bawl. But I do sometimes stop singing along and listen, and it's always a thrill. Once you go through the slog of rehearsing a particular line over and over and over and over again in rehearsal, matching intonation and rhythm and some odd word's particular swoop and dive, once you've gone through all that fussiness, then it can be allowed to be simply, directly, tangibly passionate.
Imagine what the books thought. Books that exist to create and invent worlds or to instruct and teach or argue with you and insult you. Books whose histories are rooted in forests, stuffed full of their own sense of the physical. All numbered and categorised, arranged in their sections; suddenly hearing those verse-chorus-verse-chorus voices singing at them and about them. As natural and as old as our vocal chords, as important and useful as our ability to tell stories, to pass on information. Voices and books, having travelled through millennia of progress, technology and science, ending up there in the library, back at the beginning, together, where people sing each other the news, make marks in the earth, and laugh at each other.
Then, with the tea gone cold and the cake reducd to crumbs, we all pile back on the Commoners coach and head home, back up and down the motorways, full of the chatter and natter of the afternoon, who sang this and who sang that. A group of choristers gather to do the Saturday cryptic crossword, some doze against the bus windows, and some get out their books. New books! Sally from the choir saw this book in a shop and thought I should read it. It's about the Cragg Vale Coiners. But I already told you that didn't I? Sorry. I'm excited, that's all.
May 2017
Thanks to the librarians at all the libraries we visited (Leeds, Sheffield, Darlington, Carlisle, Doncaster and Keighley).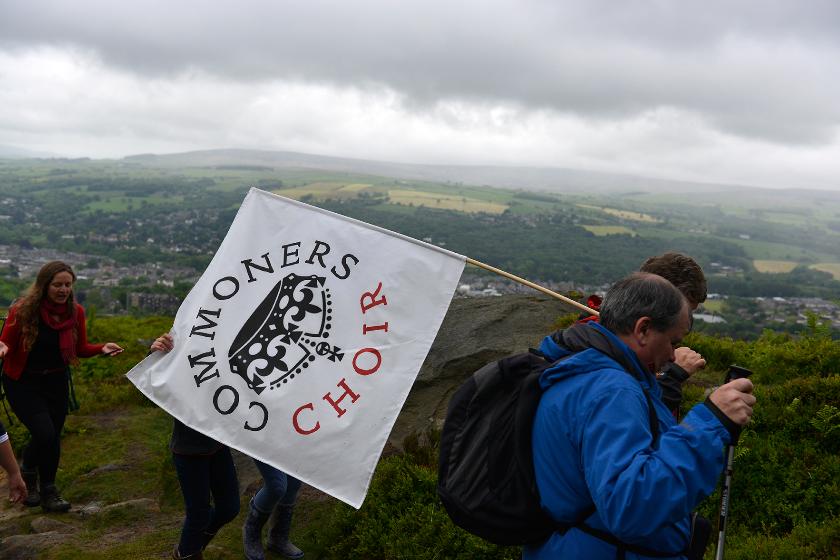 one year later…
Well it's been a year since the choir gathered, since its ambitious manifesto and since we had just one proper song. That song was the one-minute long 'Get Off Your Arse', a sort of melodic call-to-arms. Since then the choir has grown, gone through the crawling and toddling stages and now stands up and shouts, with umpteen songs under its belt and loads of projects and ideas in the diary (past and present). From that tentative minute-long song has grown a huge and unruly full-throated yell.
Yes, this is a blog about a choir. I'm not unaware of the recent popularity of choirs on this island, especially after all that Gareth Malone stuff on the telly, and I can see how championing singing together can sound like an advert for well-being, pleasantness, good clean living and the Big Society. Here's Niall Crawley writing in The Independent:
"Choral singing may have curative qualities but if we recast it as just another healthy lifestyle activity, like going to the gym or visiting our GP, then all that's magical, inspiring and elevating about the choral experience might just melt into air."
So I'll try to keep this to the magical, inspiring stuff. What can I say? Monday nights are choir nights and choir nights are a joy. They really are. There's chatting and tea-drinking and catching up and laughing… and some singing, too. Before the Commoners I'd never been in a choir before, barely seen a real choir rehearsing, so I have nothing to compare it to except my time in a band. And what I can assume is that being in Commoners Choir is somewhere between being in a band and being in a choir, which was, as it happens, exactly the aim. Being in a band is about making music as a gang, purposeful, ambitious and close-knit. Being in a choir is about the empathy and shared experience of making music with lots of people. The idea is that Commoners Choir is neither one nor t'other, but the best bits of both.
A bit more about the band thing. One of the best things about rock 'n' roll is volume, and specifically amplification. I haven't forgotten the sheer excitement to be had from turning up the dial on a Gibson guitar going through a Marshall amp. Honestly. The youthful, exciting stuff. And of matching the guitar to drums and bass, of playing with the tension and dynamics of volume and sound. But I'm learning that that's sort of how it can work in a choir – playing with the possibilities of volume and sound, of matching voices. I've always loved acapella singing, by folk groups like The Watersons, Swan Arcade, Coope, Boyes & Simpson and by fifties and sixties acapella doo-wop groups like the Zircons, Nutmegs and Savoys. It's just bands without instruments, isn't it?
I always loved being in a band. It was that joy of playing music matched to the feeling of working with friends to make something that connected with bigger ideas than rock 'n' roll or pop. For a couple of years after Chumbawamba stopped playing I wondered about starting another band, but couldn't work out what it could be, what it might sound like. Bands are intense, so it was a bit daunting. And I knew I had to steer clear of anything that might sound remotely like Chumbawamba (that would be weird, like being in a covers band). In the meantime I was writing scores of songs for theatre and art and community projects, for friends and for fun. I worked with choirs in a project at Manchester Museum with Dan Bye and Sarah Punshon (and thoroughly loved it) and then created a small scratch choir to sing at the Tate Gallery in London (and loved that too). I found it challenging and enjoyable and strange and wonderful.
And that's when I had the idea of crossing the Mormon Tabernacle Choir (whose music I grew up listening to, but that's another story) with seminal anarchist punk band Crass. Absolute diametric opposites. Sacred, harmonic grandeur paired with frenetic, angry polemic. But the thing about the Tabernacle Choir and Crass is that both are utterly compelling, they share a desire to tell the world something important. Neither makes music just to be listened to, it's about what they have to say, and both found a form that matched their intent. And whilst both Crass and the Tabernacle Choir could be criticised for being one-dimensional, I knew choirs didn't have to be – a choir could encompass the pop of doo wop and the folk of The Watersons, the art-noise of Furious Pig or the repetitive, modern classical stuff like Philip Glass and Steve Reich. There's a whole world right there in the human voice.
I hadn't thought it through very much. That was about as far as it went, the mutant lovechild of Crass and the Mormon Tabernacles, along with the idea for the opening song – knowing that there would be something peculiarly beautiful in hearing twenty or thirty people harmonise the refrain, 'Get off your arse!' It's juvenile – but that's what they said about Dada and rock 'n' roll and punk…
So a year later here we are, twenty or thirty or forty people in a low-ceilinged rehearsal room or waving our flag up on a moortop or uninvited in a shopping arcade singing our hearts out and feeling like we're part of something much bigger than ourselves. Not just because we're a choir but because we're, well, a weird choir. A maladjusted, not-quite-knowing-what-we're-doing choir. We just released our second video. The Boris Johnson one. I wasn't in it, I had a broken arm. But that's sort of how the choir works, everyone is subsumed into the bigger idea.
We have all sorts of plans as to where we go next, and I'm as curious as all the other Commoners what that means. We're playing in Bradford at 'Threadfest' and, in the light of the decision to move the Media Museum's photography collection down to London's V&A (where it will be "part of the national collection") we'll be singing about the Northern Poorhouse, erm, I mean Powerhouse. We're heading down to Ely in Cambridgeshire to commemorate the Ely and Littleport Riots of 1816, again with a special song. I'll be taking up residence at Leeds Central Library in late summer to prepare a Commoners event based around the history of literacy and print, access to words and the democratising role of the libraries. Oh and we're going to record as many of our songs as possible and somehow let them loose on the world.
And that's the Commoners Choir, as it stands, one year on. I've no idea where it's going. I can't start to thank the people in the choir who've put their shoulders to the wheel and made things happen – I'd have to list everyone. Getting this far really has been a team effort. And you, if you're anywhere nearby, you're welcome to come along if you want to sing about the world… and have fun doing it. It doesn't have to just be a healthy lifestyle activity, y'know.
Boff, March 2016
commoners & Trespassers
real change comes from below, april 2015
Walking with history stuck to the soles of your boots. That's what I call it when you get the chance to re-trace the footsteps of those who marched, battled, struck, demonstrated, petitioned and trespassed so that we can enjoy the freedoms and victories they fought hard for.
The 1932 Mass Trespass of Kinder – organised by the Manchester branch of the British Workers Sports Association – was a gathering of over 400 people who purposely walked up and onto the privately-owned land around the Kinder Plateau in the Peak District. They were met by gamekeepers hired by the land-owners, who began to beat back the walkers with sticks. A brief fight took place before the ramblers continued victoriously to Kinder summit. After sandwiches and a sing-song the trespassers returned to Hayfield village.
There they were confronted by a small army of policemen who arrested six of the ramblers, five of whom were subsequently tried and sentenced to between two and six months in jail (the jury consisted of two brigadier generals, three colonels, two majors, three captains, two aldermen and 11 country gentlemen).
The arrests and imprisonment had the effect of galvanising the public, and a few weeks after the trial a mass trespass in the Peaks assembled with 10,000 walkers defying the landowners. These mass trespasses continued until Parliament bowed to populist opinion and began to legislate to grant access to large areas of open land, establishing our National Parks and supporting the development of long-distance footpaths.
Last Sunday a group of 40 of us – some from the Commoners Choir, some friends and family – met in Edale and set off to walk in the footsteps of those trespassers. We carried the Commoners flag up Jacob's Ladder, stopped to eat sandwiches and shared cake, and stomped along to the rocky outcrops of the summit skyline. There we gathered and sang a song for the first Kinder Trespassers: its repeated refrain of 'Real change comes from below!' hurled into the breeze and scattered right across the valley below us.
What's important here isn't just our sense of history, our respect for the past. This isn't laying wreaths and giving thanks. It's understanding what links us to those trespassers, what line has been drawn across the years to make this pilgrimage relevant. Land ownership, with all its attendant themes of access, power and wealth, is still incredibly important, because it's still unfair and imbalanced. So we can celebrate the pioneers, mavericks and trailblazers who faced the gamekeepers' sticks (and especially those five ramblers who spent up to six months in jail in 1932 for the crime of walking in the English countryside) but we can't – or at least, we shouldn't –commemorate without looking around us from that Peak District skyline and wondering what we ought to be doing here, and now. Earlier I talked about the 'freedoms and victories' that the Trespassers won; which isn't to say, in this age of corporate wealth, media power and political chicanery, that there aren't still a thousand more victories to be won.
So the Commoners Choir gathered up there under the bluest of April skies and we sang our hearts out, and the singing gathered us and rooted us and tied us to both the past and to the future. Then we headed off down the trail and back to Edale, nine miles of flag-bearing, harmony-singing, nattering and gazing. A right good day out. With a point.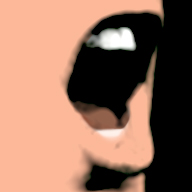 FIRST GATHERING, march 2015
Singing is good for you. Singing with other people is even better for you. If I was wearing a journalist's hat (a trilby with a ticket stub in the band, obviously) I'd throw some quotes into this article ('A study at Cardiff University in 2012 found that lung cancer patients who sang in a choir had a greater expiratory capacity than those who didn't. Singing has also been shown to boost our immune system, reduce stress levels and, according to a report published in the Journal of Music Therapy in 2004, help patients cope with chronic pain. A joint study by Harvard and Yale Universities in 2008 went one step further, claiming that choral singing in a Connecticut town had increased residents' life expectancy' etc etc). But I'm not a journalist (too opinionated, I think). I tend to snatch at disparate, personal, poetic, cultural, anecdotal and philosophical ideas as they swirl around, collecting and storing all the interconnecting stuff until it forms itself into a proper, cohesive idea.
One of those ideas is that singing with other people is not only good for you but is one of the ongoing wonders of our (present) age: that it represents revolutionary potential both individually and collectively. Potential is a big word here. I don't think 200 nine year-olds parrot-singing 'All Things Bright & Beautiful' at school assembly along to a pre-recorded CD of midi keyboard music has much in the way of revolutionary spirit. But the potential in gathering kids and getting them to create something communal and loud that doesn't need technology is enormous.
Mentioning kids is important – because singing with other people is one way we can allow ourselves to play again. Playing is something we're encouraged to 'grow out of', and our social lives as we get older revolve more and more around entertainment that's spoon-fed to us, that's one-way. Part of me dies every time my football team score a goal and, instead of allowing the crowd to sing their support, the over-loud tannoy blares out the regulation celebration music that we have to la-la-la along to. But in an age where it's difficult to escape the clutch of 24/7 digital communication, people are trying to find ways to rediscover how to play. Heading for the countryside; learning to play an instrument; gardening; riding bicycles; singing.
One of the things I enjoyed most playing in Chumbawamba was singing, acapella, in rehearsal rooms or in backstage warm-ups. Being able to feel the knitting, resonating voices (a physical buzz, timbres and breaths rubbing against each other) was always a joy. I love loud guitars and drums and rock 'n' roll, too. But singing in harmony fitted in perfectly with my love of fell running, or debating, or riding a bicycle, or chatting in the pub, or being in the middle of a demonstration… physical, natural, things that connect us.
Working at Manchester Museum last year with Dan, Sarah and Josh and a hundred-and-odd singers taught me something else that fed into this sense of the natural and physical – through the ethos of organisers People United (in short, 'promoting kindness through art') I realised that choral singing was something to be messed with, spun around, played with. That it could be taken out of context and thrown into the world of ideas. That choirs could be revolutionary. I'm not talking about manning the barricades (although…) but about challenging the way we think about things, about the way we think about the world.
Following the Manchester stuff (and what inspiring stuff it was to be involved in) I ended up at Tate Britain in January this year with a group of quickly-assembled singers who stood in front of one of Turner's huge Yorkshire skies (sketched from the top of the hill that overlooks my town) and sang about art, space, creation and genius to surprised gallery-goers. There was a pattern emerging, and the pattern was to take that idea that communal singing is good for you and couple it with other stuff that's good for you: it's good to shout about the world around you, both as self-expression and as part of the collective shout for a better world. And blimey we need a better world – both the Manchester and London projects meant I walked daily past the winter's streetfuls of homeless, blanketed people that successive governments flick derisively into the margins. "Change, mate?" "Yeah, the sooner the better."
So this week, Commoners Choir was born in a big strip-lit room in Leeds city centre and a bunch of people turned up not knowing where this was all going. I brought the kettle and the tea but forgot to get milk. I was nervous. I don't usually get nervous. I needn't have been, because our singing together, according to that report in the Journal of Music Therapy, was boosting our immune system and reducing our stress levels. And it was fun. Physical, communal, energising fun. Like playing, but with a point.
And the point is to take all the joy and bundle it with purpose, sing words that mean something, then walk those words up hills and onto the streets and into places we haven't even thought of yet. To plant our flag with big choruses and whoops. Reclaiming our sense of place and our collective voice whilst singing (in four-part harmony, naturally) 'Get off your aaaaarrrrrrse!'
As I write this (really, right now. I thought 'Aaaarrrrse' was the punchline to this piece, but now...) there's a class of school kids being walked in a crocodile down the front street past my window, their Hi-viz-jacketed teachers doing their best to retain some control. I heard them coming a good two minutes before they appeared in front of my house, and I can still hear them as they disappear back to their schools, all babbling, sniggering energy and yells and exclamations. You can hear the power of collective human noise in that crocodile, and it's a thrilling, vibrant noise. And what I'm trying to say with all this stuff about singing and choirs is that as we get older we don't need to swap that thrill of human noise for the ordered, restrained hum of being a grown up; and that if we can fill that noise with shouts and sniggers at the world around us, then the singing isn't just good for us, it's good for everyone.